By Joe Dolan and Darren Merlob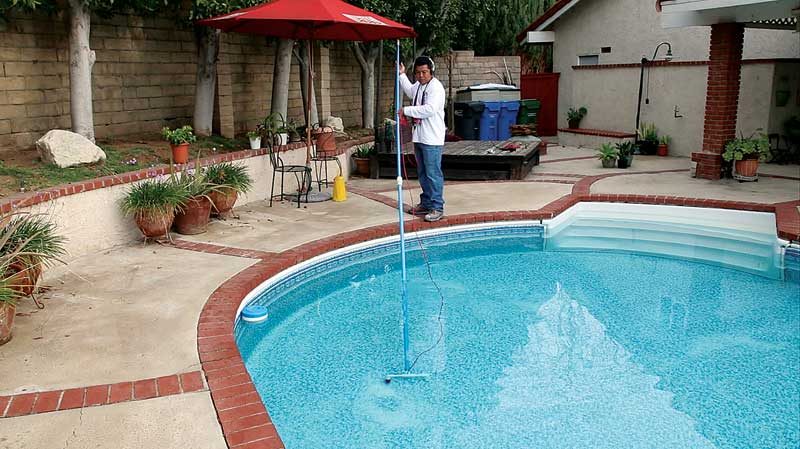 Electronic leak detection technology has come a long way since it was first introduced for the purposes of finding leaks in vinyl-lined pools. Today, the tools used to listen for leaks and identify areas where voltage finds a ground, or to simply locate a tear in a liner, have made the job much easier. Complete leak detection kits are designed to put a voltage inside the pool vessel and use specially designed probes to identify where the voltage finds a ground. Using these tools in combination with a method of first listening for leaks with hydrophones, then detecting a voltage applied with a small transmitter, allows technicians to detect leaks quickly and accurately. Not only does this technology offer pool professionals an opportunity to enhance productivity, but it also allows them to increase their workflow, take on more clients, and grow their business.
Listening for the leak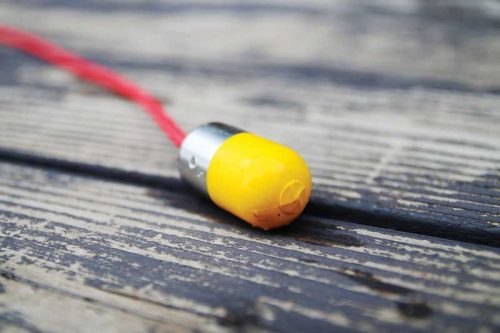 When approaching a client's vinyl-lined pool, a technician should use a listening device around suspect areas (where leaks commonly occur) before applying electric voltage to test for leaks.
Hydrophones (highly sensitive microphones designed to be used in water) can pick up the sounds of leaks in areas commonly known to produce problems, either over time or due to any errors made during pool construction. This device allows users to zero-in on even the smallest leaks, whether it is from a crack in a pipe, in a light niche or conduit, under a drain cover, or in a return fitting or spa jet.
The technician begins by dropping the hydrophone into the pool and listening for the sound of leaks from inside the pool shell with an amplifier. The service tech will first listen around lights, wall protrusions, including return fittings and spa jets, step tracks and stair flanges, inside skimmers, and around drains and drain pots. Common areas such as those behind the pool surface where cold joints appear can also cause leaks when the areas separate and wear.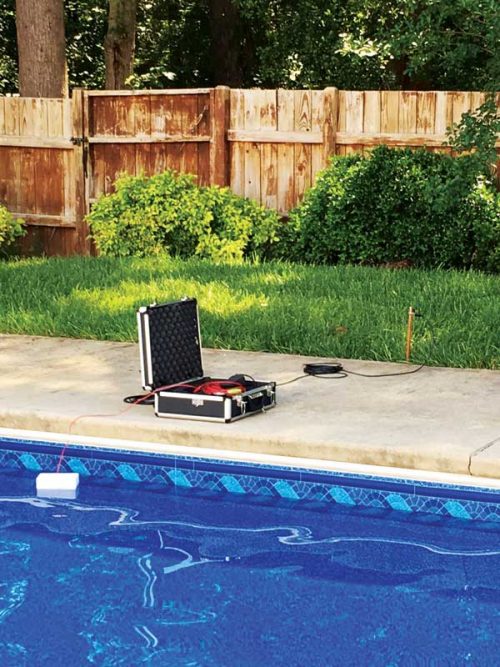 When a pool leaks, the weight of the water pushing out of a crack creates a distinct sound, which can be picked up by a hydrophone. The closer the hydrophone is to the leak, the louder it becomes. This non-invasive technique simply requires the technician to listen to a 'static' pool, i.e. pool full, equipment off. With the highly sensitive hydrophones and filtering technology in the amplifier, technicians can stay dry and listen for leaks due to cracks or separations in the pool shell and plumbing lines.
Ruling out false positives
Listening to suspect areas before using voltage to test for tears and pinholes allows the user to rule out spots that can potentially show a 'false positive' reading when electricity is applied. This usually occurs where a positive ground is detected, but the area is not an actual leak. Electricity, even at low voltage, looks to find a ground where the body of water is touching the earth, dirt, or concrete behind the vinyl liner. This ground also occurs where the water touches metal. These areas, typically known to show as false positives, may include any type of metal, such as a screw that holds a light cover to a flange or a drain cover to its pot. Even ladders that are not removed from the pool can produce a ground and show a false positive reading. By identifying potential false positive areas and first listening to them with hydrophones, the user can rule out such areas before proceeding with the applied voltage.
If a leak occurs in a light niche, it can be heard using a hydrophone as the water is pushed through the area of separation. If it is in the skimmer port or return lines, the hydrophone will hear the sound and alert the technician to the location where a leak is. Later, when voltage is applied, these areas will have already been identified and the technician can focus on suspect areas that have not been confirmed to be leaking.
Devices using square voltage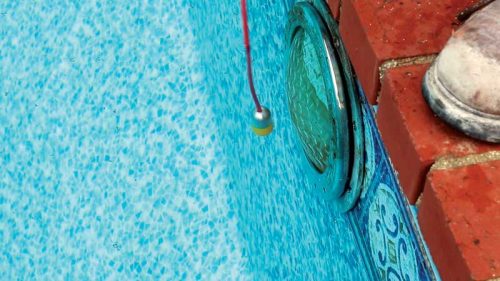 Accuracy and equal voltage distribution are increased when devices use square voltage. Devices known to use a straight voltage often require weights and strings to keep the transmitter float centered in the pool for voltage to be equally distributed. This often skews results when voltage is applied to identify a ground. Square voltage devices, however, can be placed anywhere in the body of water while delivering an amplified voltage evenly throughout the vessel to identify the ground posed at the point of a leak or pinhole. The amplified voltage from a square voltage transmitter is as strong across the vessel as it is in the middle and does not need to be centred to produce consistent results.