In the construction industry, the Certificate of Recognition (COR™) has become a national benchmark for positive safety behaviours and performance. The program was initiated in the province of Alberta more than 20 years ago and is nationally trademarked and endorsed by participating members of the Canadian Federation of Construction Safety Associations (CFCSA) of which the Infrastructure Health and Safety Association (IHSA) is a member. It provides employers with an effective tool to assess their health and safety management system.
Acapulco Pools (Acapulco), a Kitchener, Ont.-based designer and builder of aquatic facilities, started its journey to achieve COR approximately three years ago when the certification started to gain momentum in Ontario.
For more than 40 years, the company has been one of the leaders in the construction of aquatic facilities throughout North America. Every year, management strives to improve the business, and its safety protocols were no exception. With only 193 companies being COR certified in Ontario, and more than 1000 companies registered and working towards the program, Acapulco was determined to be leaders in safety as well.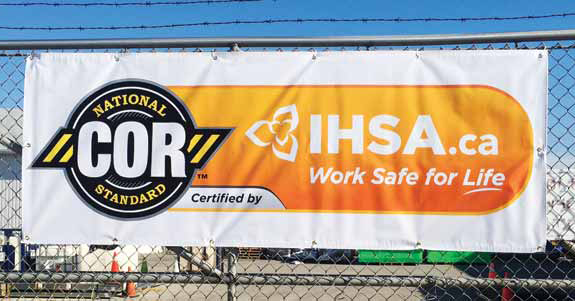 At the end of the day, safety is the right thing to do. Acapulco wanted all of its worker's to be confident, day in and day out, that they not only have a safe workplace, but also that their work has been planned with their safety in mind. The company wants all of its workers to return home to their families at the end of the day, and with that in mind, it was simple to aspire to achieve a certification that is understood to improve positive workplace behaviour and practices that lead to improved performance. Further, this was going to be one of the best ways to protect workers on the jobsite.
Safety is also good for business. Rightfully so, buyers of construction want the whole package and that includes safety. A safe jobsite is productive and profitable. As a result, more construction companies are including the COR program as a pre-qualification requirement. For instance, the Toronto Transit Commission (TTC), the City of Toronto, Metrolinx and Infrastructure Ontario use COR as a requirement to bid on large infrastructure projects in the province.
Just the same, discounting safety in construction is bad for business. Not having the right policies and procedures in place make companies vulnerable to losses by way of worker injuries, equipment or property damage, and potential penalties imposed as a result. Poor safety practices are often equated with general lack of care towards one's work, which can also be a liability. By achieving COR, companies are able to demonstrate to buyers of construction they have a functioning safety program in place and thereby seen as an asset.
Determining where to start?
A few training courses were required before Acapulco could undergo the COR program, including an overview of the program, as well as a couple of auditing courses. These were integral to understanding the COR audit tool, which is important because the first audit provides baseline results and then essentially becomes a scoring guide for success. The company already had a functioning safety program in place that met the minimum requirements as set out in legislation, so it really was a matter of identifying the gaps and working towards closing them year after year.