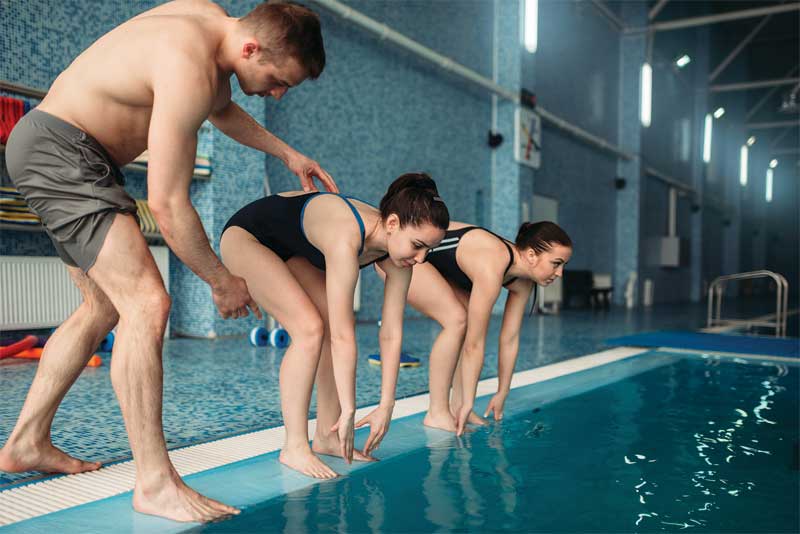 Every year an increasing number of pool-related accidents are reported, and injuries at public pools in Beamsville and Cambridge, Ont., due to improper diving techniques, point to a growing need for safer pool entry methods.
Considering a safe pool entry is important when learning how to swim. Entering the pool can either be daunting or very exciting for non-swimmers. Either way, it must be done in a safe and appropriate way. Facility owners and pool managers must ensure their staff, including lifeguards and instructors, teach non-swimmers how to enter pools safely—before they enter the water—to prevent any injuries.
Diving deep into basics
Diving techniques are especially important when it comes to entering pools safely. One such method is a 'Penguin' dive, which involves a headfirst entry into the water with the arms held tight on each side—similar to a penguin's technique—as opposed to raising the arms overhead with the thumbs/hands locked and ears firmly pinned by the arms, which allows for body position corrections midflight and in the water. This method can result in loss of body control, causing the diver to strike their unprotected head and face against the concrete pool floor, which may result in spinal injury.
As numerous people partake in many water-related activities at public pools, not only is there a need to ensure everyone participates safely, but also for management to provide/maintain safe environments. Pool managers must ensure users are aware of safe pool entry methods prior to participating in any activity, whether it is cooling off, taking the first learn-to-swim (LTS) lesson, saving a life, performing a twist dive, or an aquatic fitness class.
Some of the most critical injuries and fatal falls from head impact can be attributed to lack of proper training or instructions for safe entry into the water.
Never swim alone; do not dive into unknown pools; always face a ladder when going up or down; do not run in the shower area or on the deck; no pushing or shoving near the water; no horseplay; no open cuts or sores; shower before swimming; no chewing gum; no adhesive bandages, etc.—these rules are well-known and usually discussed with participants before they enter the facility. However, many lessons may often slip through the cracks, resulting in serious neck, head, or spine injuries.
Education and training is key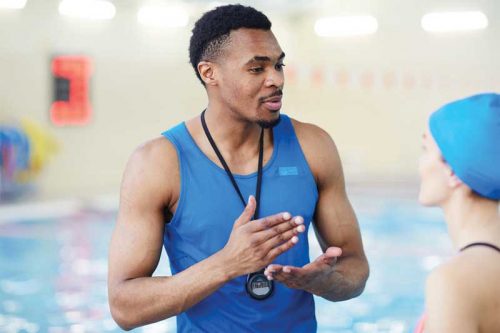 Aquatic facility operators and managers need to keep abreast of the many pool entry techniques and ensure their staff is properly educated to identify and reduce the potential for dangers in and around the water. Understanding the nature of how quickly accidents can happen and the severity of not following established safety protocols is something all new and existing employees must be taught.
In the pool and spa/hot tub industry, many new, untrained workers can be added to the roster in a short period of time due to the seasonal fluctuations of the job. This can create a logistical problem with respect to bringing everybody up to speed when each worker is starting from a different level of base knowledge. Further, many instructors and lifeguards today are not competent in jumping or diving themselves. In the past, trainers have tended to avoid properly instructing swimmers on the astride jump entry, running dive with one foot takeoff, shallow racing dive followed by a head up crawl, the flip, or tumble turn progressions. That said, non-swimmers cannot be taught to jump and dive before actually learning to swim. Therefore, pool operators must make sure the instructors on-site are trained properly to educate pool users about the dos and don'ts of safe pool entry techniques.
When the University of Toronto hosted a seminar for divers led by the American diving coach Bruce Dick Kimball, the emphasis was on the basic theories of human movement in outer space, particularly for teaching/learning the inward and twisting group of dives—the two most difficult in-the-air actions for divers to initiate and recover from (or so it seemed at the time). Once the kinesiology or biomechanic principals of zero gravity twisting/turning mid-air, such as how figure skaters speed up their jumps, spins, and rotations using body mass relocation of their arms and head, are understood and learned, it becomes more of a management of learning skills than a formal teaching assignment to instruct a non-swimmer to enter the water safely and sensibly.
Diving techniques to enter the pool safely
There are various steps or modules that can be set out in all LTS courses to ensure once a participant learns the techniques of movement through the water, they have concurrently acquired the necessary skills to enter the pool or other water environments safely.1 An understanding or appreciation of the concept of weightlessness in a spacecraft can further help the learning process; therefore, postnatal or preschool non-swimmers might not be the best groups to adapt to the following skill sets. Aquatic facility owners should ensure their staff follows these lessons when coaching bathers to enter the water efficiently.