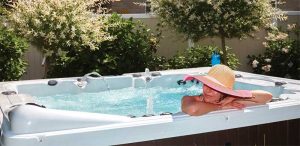 By Crystal Lengua
Spa accessories are more than umbrellas and handrails—they are a way to customize customers' new hot tub experience by providing them with upsell items beneficial to their unique needs/wants.
Getting to know what a customer is envisioning as a spa owner will not only guide the sales process, including accessories, it will also ensure maximum enjoyment on their part and build a trusting and loyal customer for one's store.
Selling spa accessories requires in-store merchandising, stocking a variety of items at multiple price points, and mixing garden-variety items with what is trending. Further, the staff needs to be knowledgeable and up to speed with the items that one is selling, how they work with the spa, and the benefits they bring to the overall consumer experience. The more they know, the more confident they will be at the point of sale (POS). Salespeople should also be able to differentiate between accessories/add-ons that are necessary for improved functionality of the spa (hot tub covers) and others that are simply nice to have (towel warmers). One may even consider staff-selling incentives for certain accessories to keep the momentum flowing.
But, how does one know what to offer, or what type of accessories they should be carrying? For this, one can start by dividing them into categories, then figuring out what makes sense for their audience/area/store. Also, looking back at the store's sales data and gauging what items sell and have sold in the past can help map purchasing as well as looking at what one currently has in stock or plans on buying. Once this information is available, one can fill in any gaps they may see from a consumer standpoint. It is recommended one carry a mix of accessories as they work together to complete the hot tub experience.
Functionality
Accessories such as steps, covers, and cover lifters elevate the spa user experience and are almost necessary for the complete purchase. These items are a priority offering as most consumers expect they are going to walk out of a hot tub purchase with some of these, if not most of them. Whether or not one's store has a promotion or giveaway, it is up to the business (often, a customer receives a cover lifter with a purchase), but one will want to have them on hand for existing spa owners who expect a retail store to sell them.
One should also ensure they have good/better/best offerings for those customers who do not mind spending a bit more for better quality items.
Merchandising these items can be tricky given their size and function, so propping them onto hot tubs as part of the display is an efficient way to not take up too much space in-store.
Safety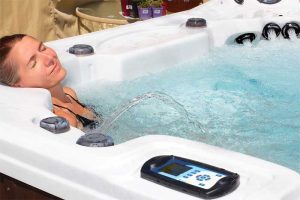 Safety items include handrails, cover safety locks, and lighting options. This category also includes non-slip steps and cover lifters. Customers' safety is a priority, and these items are sold as such. Taking into consideration the customer's age, whether they have young children, the space where they plan on setting their spa, and the area where they live (high wind areas, etc.) will help in making educated suggestions. Selling safety is the retailer's responsibility rather than a mere upsell opportunity. One may also want to make sure they have safety signage readily available to provide to their customers.
Comfort and relaxation
This category includes booster cushions and body weights, spa scents, and umbrellas to protect users from harmful ultraviolet (UV) rays, or to simply create a shaded area in backyards. These add-on items promote relaxation, stress relief, and allow users to enjoy their hot tubs a little longer than usual. Owning a towel warmer with robe hooks makes the spa more inviting in the winter because one knows getting out of the spa is going to be a comforting experience. Retailers can sell the luxury aspects of owning a spa, ways to tap into the mental health benefits of aromatherapy using a variety of scents, and ways to maximize the investment by using the spa regularly.