By Kevin Harrington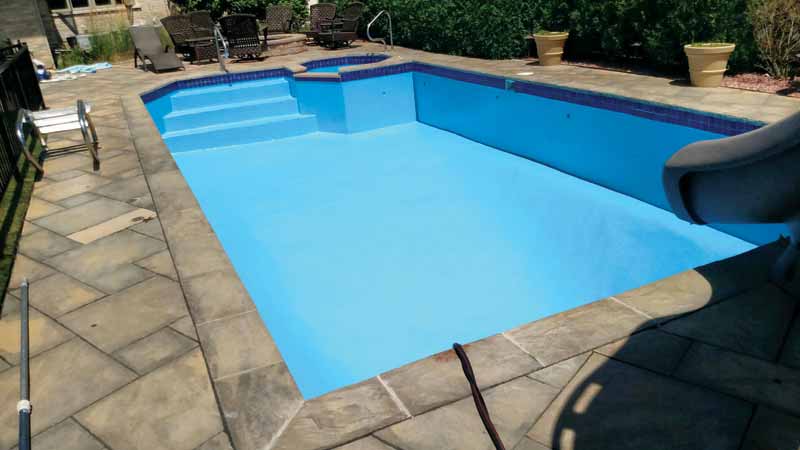 Painting is one of the best ways to protect and beautify both commercial and residential pools. In addition to adding a vibrant, fresh colour, a new coat of paint can be a cost-efficient way to give new life to concrete, plaster, or fibreglass pool surfaces. Painting a pool is not as difficult as one may think. Proper planning, surface preparation, and using best practices from the field will help ensure the best results. This article will discuss the various tips and tricks involved in painting commercial and residential pools, including preparing the pool surface, and choosing the right product—whether it be epoxy, rubber, or acrylic paint.
Choosing the proper paint
There are three types of coatings that are suitable for aquatic surfaces:
Water-based acrylic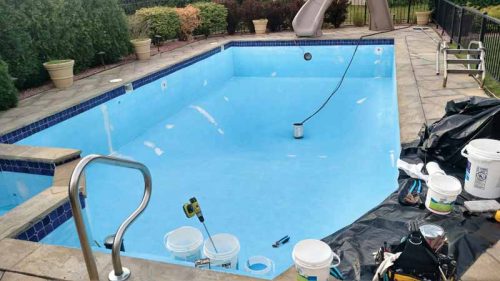 This paint can be applied over most types of coatings provided they are in sound condition. Additionally, water-based acrylic paint can be used on damp surfaces—which can be especially beneficial in many situations. This is a cost-efficient painting approach and when done correctly, it may last up to two seasons.
Chlorinated or synthetic rubber
Chlorinated rubber coatings provide excellent hiding, protection, and coverage for previously painted chlorinated rubber surfaces. These coatings can also be applied to bare concrete, marcite, or plaster. These finishes are designed to last between four and five years.
Synthetic rubber coatings can be applied over existing chlorinated or synthetic rubber systems, bare concrete, or plaster and is intended for use where adherence to volatile organic compound (VOC) regulations is required. When properly applied, this finish can last up to three years.
Both of these coating systems can also be used for fountains and ponds.
Epoxy
This paint option creates a tough, durable finish with unsurpassed stain, chemical, and abrasion resistance. Epoxy can be an excellent alternative to re-plastering; two coats of a high-build epoxy will achieve a hard, abrasion-resistant surface that costs one-third less than expensive resurfacing finishes. With proper preparation, a high-build epoxy finish can last up to eight years. Traditional epoxy will last approximately five years.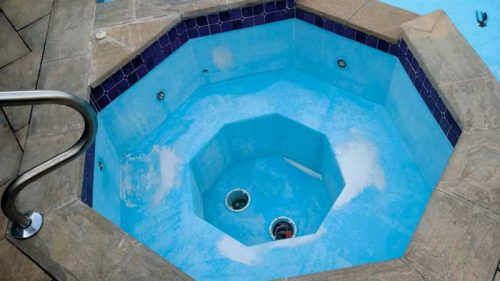 Remember to also consider self-priming paints that will reduce the amount of time needed to complete the job and save money by avoiding the purchase of a primer. These paints eliminate the need to apply a primer before applying the first layer of paint.
Pro tip: Always check into the VOC regulations where the pool is being painted before purchasing a coating product as regulations vary in Canada and the United States.
Paint selection begins by determining what type of coating is currently on the pool.
"Unfortunately, with many pools we end up having to paint, we must deal with a pool that has many, many layers of built-up paint," says Dan Lenz, the manager of All Seasons Pools in Illinois. "Most of what we see here in the Midwest is epoxy, but you could be dealing with a pool that has more than one type of paint under the various layers."
Some pool paint suppliers offer a free paint chip analysis, which can be very helpful—especially with pools that have many layers of old paint.
To prevent an expensive mistake, a paint chip should be sent to the paint supplier for analysis, as they can provide information such as thickness, number of coats present, and integrity of adhesion—as well as make recommendations for the best paint to use in the particular pool application.
"When we don't have access to paint chip analysis, we do our own 'solvent' test, in which we take a paint chip and drop it in solvent," explains Lenz. "If it's epoxy paint, nothing happens to the chip; however, if it's a rubber-based paint, the chip will dissolve or get mushy (and will become softer)."
If the pool is currently coated with an epoxy, this paint must continue to be used as other rubber and water-based paints will not adhere to it. Always select the same type of coating to ensure compatibility.
Pro tip: Some plaster surfaces that show signs of serious deterioration should be resurfaced first, before painting. Acute flaking, chipping, or peeling may indicate a surface that is soon to fail. If the surface is not suitable, the paint will peel and remove the plaster with it. Painting a pool with a two-coat epoxy paint system can prolong the life of the plaster, but only if the pool's surface is in good, sound condition. That said, paint is not a solution for a failing plaster surface; therefore, surface preparation is extremely important. Whatever type of coating is being used, it will adhere best to a solid and clean surface.