By Edward Vondell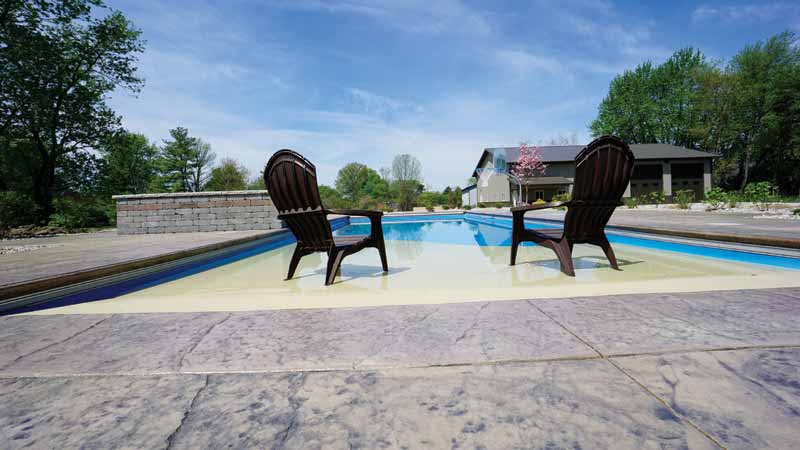 As with many trends in residential pool construction, the beach-entry pool is another feature that comes from the resort industry. Today, when consumers go on vacation to hotels and experience the benefits of a beach entrance on a pool, they want one in their backyard. Until now, the only way to achieve a zero-depth beach-entry pool was to build one out of gunite.
Pool installers have been using their expertise to create this hard-to-build entry feature for clients, but have been asking fibreglass pool suppliers to create a beach-entry design—to make it easier to offer this feature. In the spring of 2019, Jonathan Hendrick, co-owner of Hendrick Pool and Lawn Service in Indiana, installed his first rectangular beach-entry pool, while David Burton, CEO of Burton Pools & Spas in Arkansas, completed a free-form beach-entry pool. From sales to installation, these builders have had a positive experience with this offering and believe more consumers now prefer a unique, resort-style pool in their backyards.
Diving into the market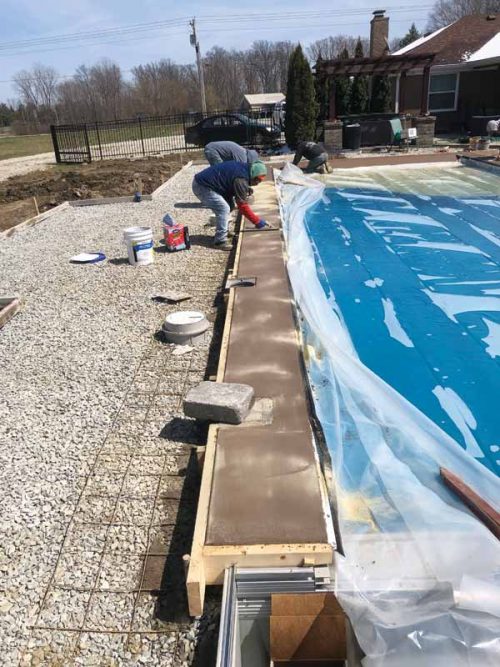 The beach-entry pool appears to be the next trend, following the popularity of in-pool sun decks and tanning ledges.
"We've been watching the residential pool market follow the designs of those in hotels and resorts because consumers want something different from their neighbours," says Hendrick, who has been building vinyl liner and fibreglass pools with his father for more than 35 years.
They believe the beach-entry pool is a natural next step in the evolution of high-end features.
David Burton, who builds gunite, vinyl liner, and fibreglass pools, has been in the business for more than 41 years.
"By offering all three types of pools, we aren't biased toward one construction type or another," says Burton. "Once we know what customers want, when they want it, and what they can afford, we can steer them in the direction of a gunite, vinyl liner, or fibreglass pool."
Burton feels the market has always been interested in beach-entry pools.
"When someone tells you they want this type of pool, there is a specific reason for it," says Burton. Many times, consumers want this type of pool because they have small grandchildren, older dogs, or have a disability or injury that makes the beach entry appealing.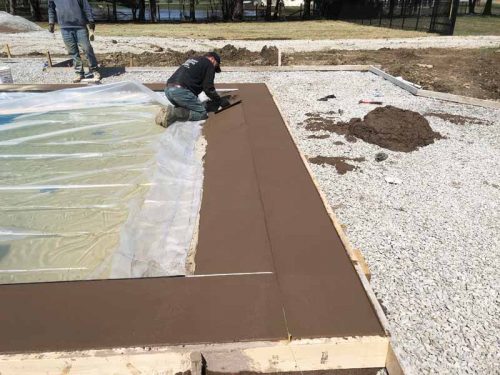 "When a homeowner requests a beach-entry gunite pool, they are often shocked to learn the feature will add $10,000 to the price of the pool," explains Burton. "Part of the reason is, with a gunite beach entry, we must use several specialty products for the transition section alone to make it all work. Not to mention having to comply with codes for the slope, etc. It's very time consuming."
In the case of a fibreglass pool, there is no 'additional' cost to the beach entry—it is a part of the pool design. The slope is pre-designed and engineered to meet codes, and the final product has a consistent, finished look.