By Jason Cramp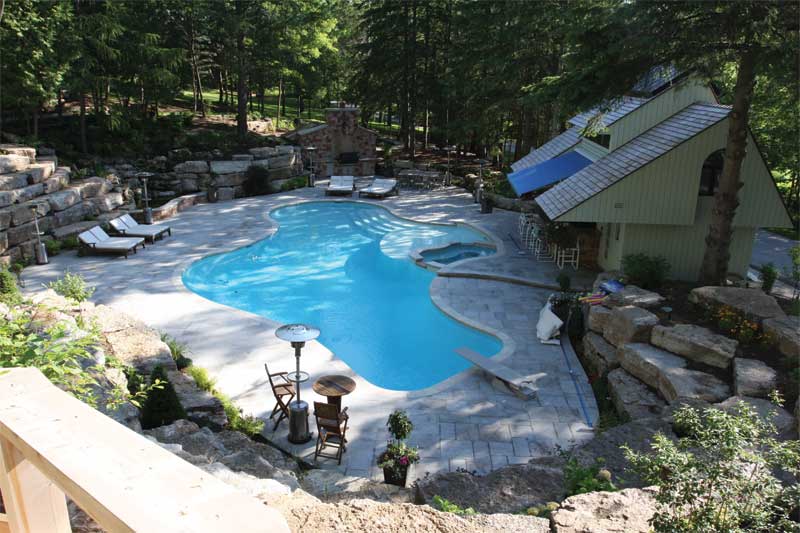 The landscape on this large rolling property was very mature, and it had an extremely steep slope at one end of the vinyl pool, which was installed more than 30 years ago.
Taking all of this into account, the goal was to achieve maximum use of all deck spaces and, in changing the pool from a vinyl installation to gunite construction, making sure everything looked in place.
Therefore, it was imperative the landscape was in sync with the native-estate setting, while also providing space for large gatherings. As the house was a fair distance away, the area also had to be self-sufficient in that it offered everything from swimming and lounge areas to cooking and dining spaces.
To accommodate all of these features, a 19.5- x 12-m (64- x 40-ft) freeform pool was installed to allow for the inclusion of a large 6.5-m2 (70-sf) spill-over spa and a 15.6-m2 (170-sf) in-pool suntan ledge. One challenge was connecting the upper patios and other rooms of the house. To accomplish this, large 4.8- to 6.1-m (16- to 20-ft) tall weathered limestone rockery retaining walls—comprising dry and wet laid flagstone—were installed to create mid-level terraces and walkways to link every space. Eramosa flagstone was used on all concrete patios, while pavers comprising irregular and varied textures were used to finish the walkways and garden paths.
While the rural property comprised random lines and shapes, the finished pool and landscaping's clean, smooth transitions to all levels in the backyard brought cohesion to the space.
M&S Architectural completed the landscape design/build and performed all demolition work, while Betz Pools Ltd., built the pool and spa.