By Michael Willis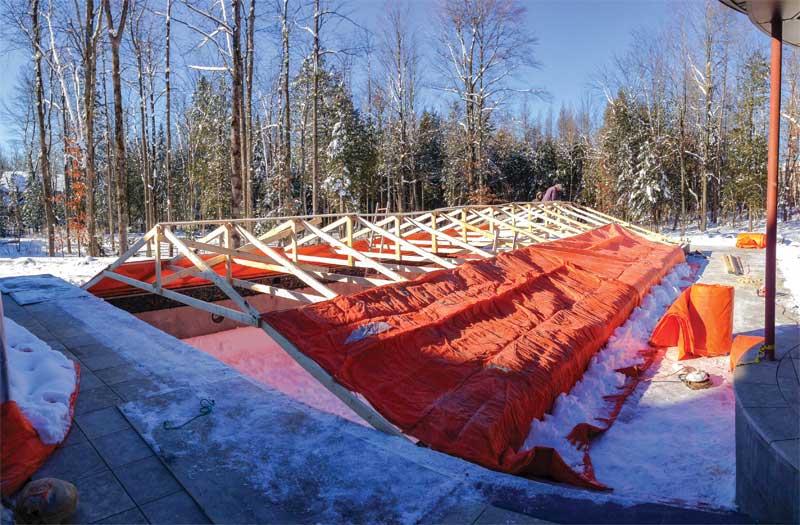 Canadians are fortunate to have terrific summer weather with comfortable temperatures. In fact, in many regions, the heat—at times—is comparable to what is experienced in the southern United States. For many pool owners, nothing compares to lounging poolside while sipping a beverage and watching their children splash in the water on a hot summer's day. Swimming pools and outdoor living go hand-in-hand.
It is seldom to see an extravagant backyard oasis that does not have some type of water element incorporated into the design—whether it is a pool, hot tub, pond, or water feature. When the weather is co-operative, it is an easy sell for most homeowners to invest their hard-earned money in creating these types of spaces. Keep in mind, the key word is 'when' the weather is co-operative.
Pool sales during the spring and summer remain relatively consistent from year-to-year; however, when the temperature is lower than average, or heavy amounts of precipitation are experienced, sales will surely suffer. Even with the uncertainty of Mother Nature, the pool and hot tub industry cannot escape the fact Canada has a rather short swimming season. This is not only reserved for those who use their pools, but also for those who are building them.
Most pool builders scramble to sell and install as many projects as possible in a compressed season with the goal of having sufficient funds to carry the business through the winter until the warm weather returns. This cycle continues each spring, with builders anxiously awaiting the onslaught of phone calls requesting new pool installations and service work.
In Canada, pool building is referred to as a seasonal profession. The same can be said for most outdoor living industries. Most pools, hot tubs, and water features go through some sort of winterization or seasonal shutdown. By late fall, most waterscapes are closed for the winter, water levels are lowered to accommodate winter precipitation, plumbing lines are drained to prevent freezing, and covers are secured to keep debris out and protect the pool's interior.
Most pool builders end their construction season in the fall and lay off employees over the course of the winter. Some take on snow clearing contracts, mainly to cover operating costs and to keep staff employed. That said, snow clearing is equally as unpredictable as pool building, as the amount of work available is reliant upon the weather.
Outside of the pool industry, most construction trades continue working year-round—even during the harshest winter weather. They have adapted their techniques and building practices to eliminate seasonal shutdowns, keeping workers employed, productive, and profitable. The same can be true for the pool industry. With the correct design and construction considerations, it is feasible to continue building pools year-round, even in colder climates.
Although these practices may not be feasible for every pool builder, with the right project and planning, it is an ideal way to soften the workload during the busy spring months. Many factors can contribute to whether or not a project should be constructed during the winter; however, such as scope of work, budget, location, schedule, and type of project.