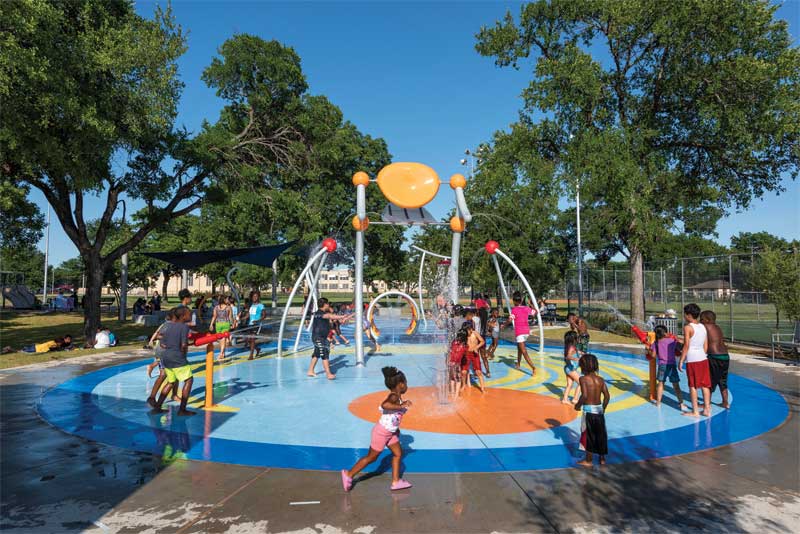 Creating 'inclusive play' areas is not only a priority for parks, but also aquatic facilities. Today, many recreation departments, homeowner associations, and community centres are installing splash pads with features that welcome users with a wide range of developmental, cognitive, and physical abilities, including different age groups, especially older generations acting as caregivers to children.
Addressing individual needs
There is a trend in all playgrounds—whether dry play or aquatic—to design a play area that includes all community members, regardless of age or ability. Splash pads are no different; sections within the play area are created to attract and encourage a wide range of patrons. Also, using a variety of water features, flow, spacing, size, and colour can make the facility even more accessible to its users.
The inclusive play trend coupled with the needs of a community dictate specific requirements within a splash pad.
"Community input meetings are crucial to the design process," says Adam Brewster, landscape architect at Dunaway Associates, a civil engineering and landscape architecture firm. "We engage the users to get a better understanding of their needs. On a recent project, our community outreach meetings included a participant with physical and cognitive limitations, reinforcing the importance of making our project fully accessible. This experience was invaluable for our team as it helped ensure our design would make it easy for her to enjoy the splash pad with her family."
Designs for physical/mobility limitations
The surface and slopes of a play area must be designed keeping its users in mind. The structural slab upon which the splash pad is built is extremely important for those with physical or mobility limitations. The water must drain properly to avoid 'puddling' or 'ponding' as this can be dangerous for users.
"The surface must be flat and provide clearance for manoeuvrability around each of the play features," says Brewster.  There are specific requirements for slopes and cross slopes on splash pads dictated by municipal codes to ensure safety and inclusivity. The placement and size of drains must be such that the water does not collect in an area and create tripping hazards for users. It is also critical the drainage system does not fail as it can automatically cause flooding and puddles.
Not only do users with mobility limitations need to be able to move from place to place on the splash pad, but they must also be able to operate all the features in the play area.
"Being able to grip, grasp, push, and pull different components is something not all children can do," explains Brewster.
Splash pads especially designed for inclusivity use features that are intuitive to operate.
"In the past, we thought having many activators and programmable features around the facility would foster inclusivity, but we discovered many users were unable to operate those features," says Brewster.
Designers agree many features can be too complex for some users to manipulate. The more successful features are those where one can just walk up and start using them rather than having to look for the activator.
"Water cannons are one of our favourite features," says Brewster. "The up-and-down motion of the unit turns it on and off, making it extremely simple to operate."