By Bruce Riley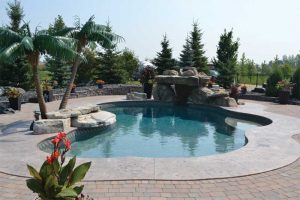 The pandemic has made consumers shift money they previously spent on vacation travel toward creating a private resort in their backyard.
There are so many options pool builders can add to turn a backyard into a 'staycation resort,' that it can sometimes be overwhelming when deciding what to offer. Every builder not only wants to please their client, but also wants to exceed their expectations to ensure future referrals. This is where artificial rock can make a huge impact.
One of the easiest ways to create a magical backyard escape is to use artificial rock to add water features. Luckily for builders, artificial rock suppliers now offer a wide range of component water features pre-designed into kits to create grottos, caves, and cascading waterfalls that provide a guaranteed finished look to integrate seamlessly with the client's home and backyard. These systems even offer ways to incorporate slides, steps, and plenty of landscaping opportunities.
Start with a photo gallery
The best way to start the conversation about creating a backyard resort is to show water features on pools.
"We show customers a huge gallery of photos from past projects to get a feel for what they like," said Virginia Stewart, a pool sales and design manager at Aqua-Tech Pools & Spas in Winnipeg, who has been installing artificial rock component water features for the past 20 years. "Because of the internet or home makeover TV shows, many clients come to us with ideas for their dream resort pool from images they have found online.
Even if a builder has not personally installed artificial rock water features, they can use photo galleries offered by manufacturers and suppliers and websites like Houzz to inspire the client.
Once the client identifies what they like, direct the conversation toward how their pool will be used. Are they looking for a slide, cave, or jump rock for younger members of the family? Or perhaps they want a water feature tall enough to block the view of the neighbour's yard. Do they want lots of cascading water sounds to drown out barking dogs, nearby roads, or simply because they enjoy the sounds of falling water?
Ask questions and look around the home and use the water feature as a focal part of their new resort backyard.
"Because of the pandemic, consumers are spending more time in their backyard so they want to create different sitting areas in and around their pool, or different levels within the pool to place lounger seating so their backyard really starts to feel like a resort," said Stewart.
Structural water features are designed for people to sit on or under. They are not only functional, but also enhance the backyard and the home.
"Water features are attractive to the eye and are terrific to light up and enjoy at night as well," Stewart said.
She explains water features are not just for new pools but also renovations.
"This year, the requests have doubled for complete renovations on existing pools, so there are now more opportunities for selling resort-style water features than ever in the past 20 years I've been selling them," she added.
'Resortscaping'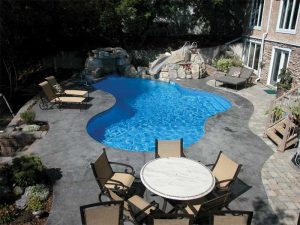 Whether the client has experienced water features at a resort hotel or seen them in travel magazines, this element is integral to making the backyard look like an at-home resort. Because they tend to be the focal point of these resort-like pools, it is best to start the design around the water feature. The benefit of using artificial rock is because it is sold as component systems—so what the client sees is what they will get on their pool, right down to the rock colour.
"The modular waterfalls, grottos, and caves we show clients offer a consistent, finished look and because they are kits, we know the price up front so it helps with budgeting," Stewart explained. Caves and grottos give the pool a resort feel by providing all the benefits of a waterfall such as visual beauty and the calming sound of cascading water, but also add fun and excitement, especially for children.
"Clients with children often want a long, fun slide that looks and feels like a waterpark," said Stewart. "These slides provide a perfect opportunity to fill in behind, under, and around the slide with artificial rock water features."
Consider incorporating misters and lighting into the design to add to the mystery and magic of the water feature, making it even more exciting for children.
As these water features are the primary, eye-catching elements on the pool, it is important to strategically place them so they can be viewed from the home.
"We find a particular 1.2 m (4 ft) double modular waterfall and grotto are among the most popular kits we install," said Stewart. "In addition, the smaller, ledger water feature is lower in height and clients find children jump off the rocks rather than having a diving board."
In all cases, Stewart recommends adding lighting so the client can enjoy their resort pool day and night.
Pool builders can go beyond larger water features by offering artificial rocks in small ways which offer a big impact around the pool.
For example, placing a rock platform that includes an anchor to hold an umbrella further enhances the resort look-and-feel of the pool area. Artificial rock is delivered hollow to the builder so it can be filled with cement, allowing anchors for various ancillary products to be mortared in place so customers can add elements such as an umbrella for shade. This shaded area is ideal for sitting close to the pool while being protected from the sun.