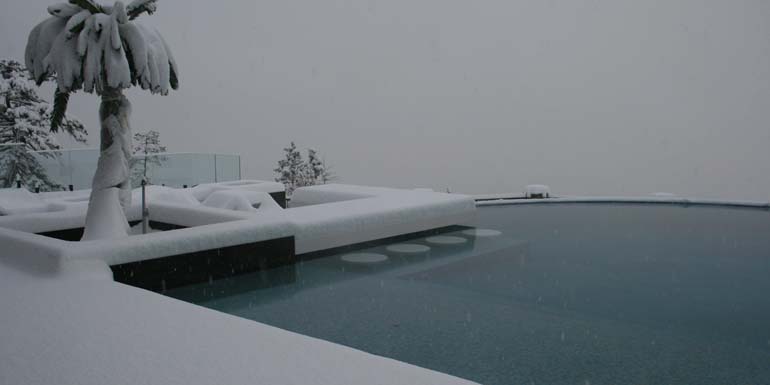 By Gene Brown
When it comes to pool heaters, one size definitely does not fit all. With so many variables on every job site and different customer needs and preferences with every project, choosing the right heater requires a lot of consideration.
Talking to the client
In order to find the right heater for the project, builders need to talk with clients about a variety of factors.
Preferences
What the client asks for is not always best suited to their situation. By asking this question, the builder has the opportunity to educate the client about their options and help them make an informed decision. If the customer is concerned about the environment, they might opt for a more 'green' heater selection—and steer clear of options such as fossil fuel heaters.
Expectations
What does the customer expect in terms of heater performance and ability? Is this project a pool and spa combo with mixed water, filter and heater systems? These combinations work well for chemical treatment but require a fast recovery time. One must also determine what type of heater will best fulfil the overall swimming needs of the customer? For example, an air/water heat pump is very efficient, but also has a tendency to be seasonal and require a large electrical hook up. If the client plans to use their pool all year, a fossil fuel heater may be the best option.
Site conditions
There may be location conditions that influence heater selection. For example, the job site might not have natural gas or an existing power supply that is already maxed out. These situations will definitely influence the client's decision. If the pool is in a sunny location with a dark deck, a radiant-heat system could be installed in the decking and used as a form of solar energy to cool the deck and heat the pool. A pool cover can also be an influencing factor, as can insulation (of either the pool, plumbing or both).
There are many benefits to covering pools. The main benefit is minimizing heat loss due to evaporation, while other fringe benefits include cleanliness and lower chemical usage.
Budget
A builder must also determine what the customer's budget is and whether there is room for negotiation. Some clients may be inclined to choose a heater with fewer upfront costs, only to change their minds when long-term savings (e.g. monthly operational expenses) are added to the cost equation.