By Eric Gohn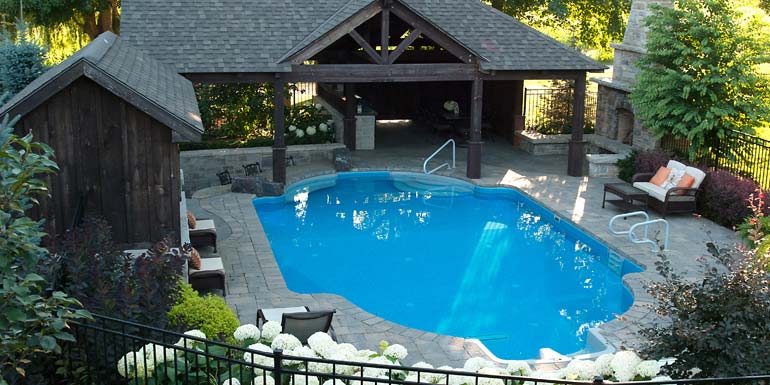 The concept of outdoor living started with the backyard pool and many in the industry are aware this trend has expanded exponentially over the years. The backyard is no longer a domain just for kids and the pool; therefore, designers/builders who embrace this concept are not only offering to install or renovate the pool, but in doing so, are providing homeowners additional options such as outdoor kitchens, fireplaces, dining/lounging areas, swim-up bars, and even offices complete with Wi-Fi so clients can work from home in the midst of their tranquil outdoor oasis.
One builder who recognized this trend roughly 16 years ago is Ian McGregor of Ian McGregor Pools and Landscapes in Ancaster, Ont. He has been in the industry for 24 years, originally starting as a master landscaper. Over this period, he realized many of his clients wanted a landscaped backyard that includes a pool. As a result, he decided he wanted to offer his expertise as a one-stop contractor—building pools and landscaping—so his projects would be managed seamlessly for his clients.
"Clients often get frustrated when projects have to stop for landscaping or pause during the pool installation and, with multiple contractors, there were always hiccups," he says.
McGregor is a part of a growing group of industry experts who wear all of the hats throughout the course of a project.
"I'm either complimented or crucified," he says.
That said, the latter is rare as he has full control of the project which allows him to not only ensure the job operates smoothly, but also make sure the finished project meets and/or exceeds his client's expectations.
Getting started
Successful outdoor living spaces start by learning what the client wants and desires for their backyard. Using the interior of the home as a guide, it is important to understand how the outdoor living space will be used. That said, McGregor asks his clients a number of key questions regarding their landscape needs and gives them a few weeks to ponder and answer before starting any initial design concepts. Some examples of his questions include: How do you entertain? How do you plan to use the space? Who will be using the space? What direction do you enjoy looking when you are seated in the yard? Is there an area you do not want to see in the yard? Will children be the predominant users or will adults mostly be using the pool and outdoor area? The framework for the initial concepts for a project is developed based on how the client responds to 
the questions.
"When I first meet with a client, I generally spend two hours with them to learn about their lifestyle," says McGregor. "Generally, only 15 minutes are spent discussing the specific project. By investing this time and getting the client to answer my questions, when I return with the proposal and presentation, 99 per cent of the time there aren't any changes."