By Melissa Brown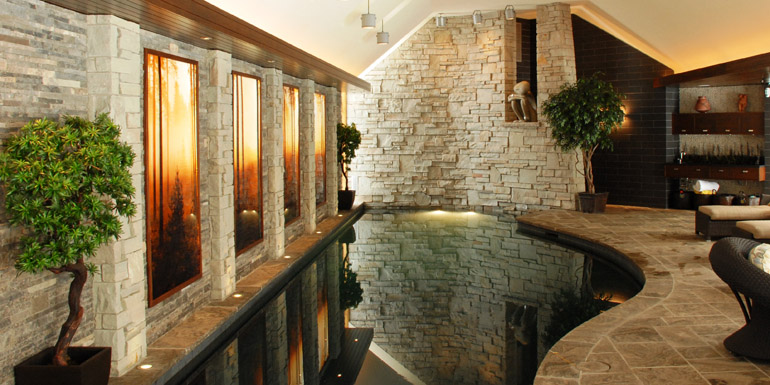 While an indoor swimming pool may seem like an extravagant addition to any home, many are realizing the year-round enjoyment makes it well worth the initial investment. Rather than joining a golf club, ski club and/or gym, building an indoor swimming pool offers fun and entertainment for the entire family, not to mention the convenience of a personalized health and fitness centre.
Any type of pool (e.g. concrete/gunite, fibreglass or vinyl liner) can be constructed indoors, and the installation can be as simple as a lap pool or as elaborate as a complete indoor waterpark. Many people add additional features like change rooms, showers, exercise facilities, steam rooms, saunas, wet bars and other amenities to create an at-home health spa atmosphere. That said, the possibilities for indoor swimming pool design and construction are limited only by the homeowner's imagination and budget.
Cost and construction
The ideal time to plan for the installation of an indoor pool is during the design and construction of a new home. However, with the help of the right architect, it may be possible to seamlessly add an indoor pool to an existing home as well.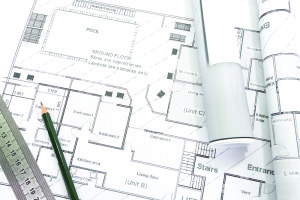 Working with an architect who has experience designing indoor pool rooms will make the job easier. This way, the homeowner can focus on the pool and make recommendations with regards to pool design, mechanical system needs, and who they can specify for the complete heating, ventilation, and air conditioning (HVAC) system.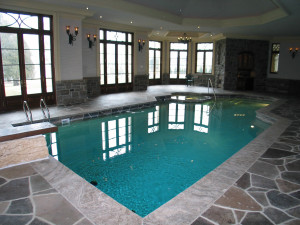 Whether a pool is destined for the indoors or the outdoors, most are constructed the same way. Local building codes may require an engineer-stamped structural pool design to accompany the permit plan for the building. Deck drainage must also be carefully considered. While outdoor pool decks slope away from the pool to keep debris and runoff from entering the water, indoor pools require the deck to slope to a perimeter drain or properly spaced deck drains. Deck drainage must be incorporated into the sanitary system and be part of the plumbing drawings submitted to the city.
Further, indoor pools do not have to contend with freeze-thaw cycles like their outdoor counterparts; therefore, a wide variety of materials can be used, e.g. glass and ceramic waterline tiles.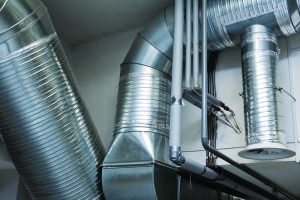 Architecturally, an indoor pool room may look like the rest of the house, but in terms of engineering it is quite different. Indoor pools are challenging as HVAC systems are key to ensuring comfortable and safe humidity levels. Air quality equipment is a major consideration in all indoor projects. In some cases, the cost of this equipment can be just as much as the pool. That said, a residential indoor pool project, including the pool and structure, can start at approximately $165,000 to $250,000 depending on the size of building, pool, and the mechanical systems required.
Pool design
Builders, homeowners, and architects all play an integral role in a successful indoor pool project. Communication is extremely important; especially the initial conversation with the homeowner and architect. All parties need to work together to help guide the homeowner through the decision-making process—prior to construction straight through to project completion. The design stage is the first step in determining the purpose. What is the pool being used for? Will it be used primarily for fun and entertainment or for exercise? Certain pool designs may be better suited for each activity.
Once the homeowner has decided what they want, the following material options need to be considered when incorporating an indoor pool into their home:
Concrete—A strong and durable choice. Concrete is the most common indoor pool building material.
Aluminum/vinyl—This material is not commonly used in today's indoor swimming pools, but it is still an option to consider.
Fibreglass—A prefabricated shell requires an open wall access point to drop it in place. These can also include a swim spa current.
Other important design factors
HVAC—Humidity causes the most wear and tear to the building that houses an indoor pool. Obviously, any metals used in the construction of the pool must be rustproof. Wooden materials are not as durable because they can deteriorate quickly in such humid conditions; therefore, it is important to consult with an HVAC specialist who is familiar with dehumidification systems prior to selecting the building materials for the project.
Insulation—Insulation is expensive and is one of the main components of indoor pool design and construction. Proper insulation will also help alleviate potential health threats for the homeowners. Mould can buildup in the insulation creating a dangerous environment that supports further mould growth that can damage the lungs and respiratory system.
Vapour barriers—A quality vapour barrier that will keep condensation from building up in the walls should be included. These barriers are made of plastic or film and allow air—not moisture—to circulate through the material.
Climate control—Proper climate control also needs to be maintained in the indoor pool space. Keeping a precise temperature will produce less humidity. A precise temperature can be achieved by keeping the indoor space exactly two degrees cooler than the interior air temperature in the room.
Pool cover—The homeowner should also consider covering the pool when they are not using it to decrease evaporation. This will also reduce humidity and heat loss, lowering the annual operational costs.