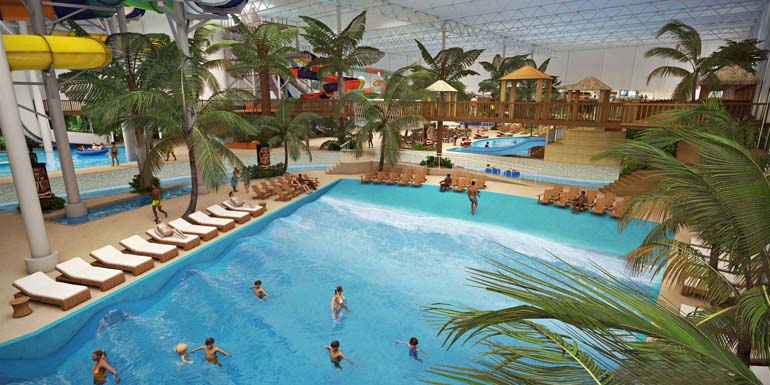 Valcartier Vacation Village is constructing a five-storey, 18,023 m2 (194,000 sf) recreation and tourism complex in Quebec which will include a year-round indoor waterpark.
This tourism industry initiative, representing a private investment of $65 million, will complement the group's entertainment offerings with accommodations and annual activities. The Polynesian-themed waterpark will cover more than 9476 m2 (102,000 sf)—almost two football fields—and will include attractions that appeal to a wide range of patrons, catering to families as well as kids and adults.
"The idea behind building Valcartier Vacation Village's recreation and tourism complex is to provide our vacationers, particularly families, with an optimal entertainment and accommodation experience," says Valcartier Vacation Village's president and general manager, Guy Drouin. "Our expertise in waterpark and winter playground management has allowed us to improve this experience as vacationers will now have the opportunity to visit the waterpark during any season."
Some of the waterpark's attractions will include a large, 37-m2 (4000-sf) wave pool, a family pool with water games, a multi-activity adventure river, and double surf wave. More than 14 waterslides will also be included, with five of them standing 15.25 m (50 ft). Other amenities will include a patio restaurant with private rooms for groups and 12 private cabanas.
The four-star hotel will offer 153 suites and is scheduled to open in December 2016.