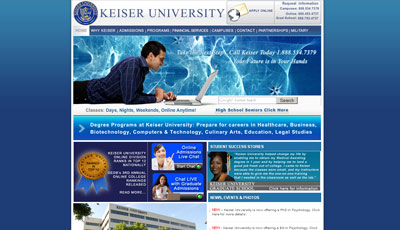 Keiser University's online aquatic engineering program offers a flexible course schedule that allows students to earn a degree while they work.
Keiser University eCampus has released its 2012 course dates, which are designed to provide a flexible schedule for working pool and spa professionals interested in advancing their education.
The associate of science, two-year aquatic engineering degree program, now in its eighth year, is available through the university's eCampus online degree program centre and allows students to participate at any time thanks to its one-month module format. Enrolled students partake in one-to-one, online education with the instructor, and online dialogue with other students. Class work comprises weekly live chat rooms, threaded discussion topics, and 'Webliography' assignments.
"Many of our students have been in the industry for more than 10 years," says program director and Pool & Spa Marketing columnist, Connie Sue Centrella. "It gives me great pleasure to watch them grow in their professional learning. It gives me hope that the future of the pool industry will rest on highly educated professionals."
The 2012 schedule is as follows:
• Hydraulics technology: Jan. 29 – Feb. 26
• Filtration technology: Feb. 27 – March 25
• Cleaning technology: March 26 – April 21
• Heating technology: April 30 – May 26
• Basic electrical technology: May 28 – June 23
• Lighting technology: June 25 – July 21
• Pool design: July 23 – Aug. 18
• Methods of construction: July 27 – Sept. 22
• Architectural landscape design: Sept. 24 – Oct. 20
• Pool operation strategies: Oct. 22 – Nov. 17
• Basic chemistry: Nov. 19 – Dec. 15
Each module will also discuss the business of managing aquatic facilities, service and pool and spa retail stores. For more information, visit www.keiseruniversity.edu.