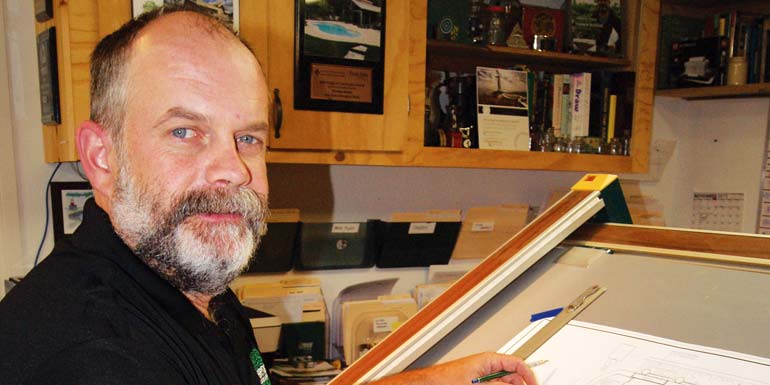 After serving in a variety of roles on the Landscape Ontario (LO) board, including most recently as its second vice-president after stints as the design sector representative and as a volunteer with the LO Canada Blooms garden design team, Paul Brydges has been elected to lead the association as its new president.
Brydges, the first landscape architect to hold the position of president, officially started his two-year mandate at the horticultural association's annual general meeting on Jan. 13. He is a graduate of the University of Guelph's landscape architect program (1994), and serves as the principal and senior architect at Brydges Landscape Architecture in Guelph, Ont.
"Our biggest hurdle in achieving and maintaining our modern landscape is to overcome the shortage of qualified team members and also the perception of our profession as mowers of lawns and shovellers of snow; those days are generations gone," says Brydges. "If we can look at ourselves in the proper light and realize through education and years of on-the-job training that we are professionals, we can change our market perception. That is how we are going to bring young professionals into the profession, as well as interest students to move into programs that will qualify them for the careers."
LO executive director Tony DiGiovanni added: "He has a powerful and profound message that provides clarity about how our sector enhances lives by what we do and who we are. He wants to remind all of us that we are much more than an industry; we are a profession."
The 2016 provincial board includes: Paul Brydges, president; Warren Patterson, first vice-president; David Wright, second vice-president; Dave Braun, past-president; Lindsay Nightingale, treasurer; Gerwin Bouman, growers; Mark Humphries, snow and ice; Steve Macartney, irrigation; Brian Marsh, grounds; Alan White, lawn care; Peter Guinane, contractors; Michael Van Dongen, garden centre; Stephen Schell, interior; James Solecki, lighting; Blake Tubby, member-at-large; Gregg Salivan, member-at-large; Michael Pascoe, London chapter; Brian Baun, Durham chapter; Thomas Blatter, Waterloo chapter; Donald Tellier, Windsor chapter; Chris Burns, Ottawa chapter; Margot Burns, Georgian Lakeland chapter; Terry Child, Upper Canada chapter; and Tim Cruickshanks, Golden Horseshow chapter.
In other news, LO and Landscape Management Network (LMN) have formed a strategic partnership, which positions the latter as a leading sponsor of the association's tradeshows, publications, and educational initiatives.
The new Leaders Summit is a direct result of the alliance, which will comprise a two-day retreat-style event planned for Feb. 16-17 in The Blue Mountains, Ont., to address challenges facing landscape business owners, and suggest solutions to their problems based on proven systems and processes.