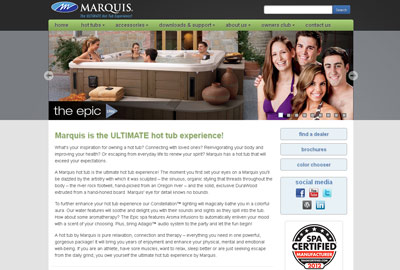 Marquis Spas' consumer website has been redesigned to be more visually appealing and user-friendly.
Marquis Spas, a portable hot tub manufacturer in Independence, Ore., has redesigned its consumer website, giving it a complete makeover in terms of visual appeal, materials and infrastructure.
The new site (www.marquisspas.com) sports bright colours, new photos and improved pages to assist consumers in their search for a hot tub. For example, the site has an interactive hot tub colour selector, where consumers can visualize how interior and exterior colours will look together.
"Everything on our website focuses on providing a great consumer experience," says Marquis' president, John Schrenk. "It's easy to use, downloads are quick and we have engaging content. In addition, this site not only showcases all that Marquis has to offer, but it's also a great source for hot tub information in general."
In addition to a new search function to help consumers find hot tub information, the website also features a large section on the various health benefits of regular hot tub use, complete with facts and important links.
The site caters to current spa owners as well. For instance, the new 'Owners Club' section allows existing Marquis spa owners to find operation manuals and information on various accessories. Finally, the dealer locator pages have also been expanded and enhanced, while links to the company's social media pages on Facebook, Twitter and LinkedIn, as well as to its blog and YouTube page, are also more easily accessible.
In other news, Marquis has recently opened a new warehouse in the Netherlands to increase its focus on the European market. The facility is located in the city of Rotterdam and will allow the company's European customers to buy stock from the warehouse, place custom orders to be shipped to the warehouse, or buy container loads of spas to be shipped to their country of choice.
"We want to expand our European reach, and at the same time, improve product lead times and customer service," explains Schrenk. "(It is) already paying off for us as we've signed several new accounts because of our warehouse solution."