By Jason Cramp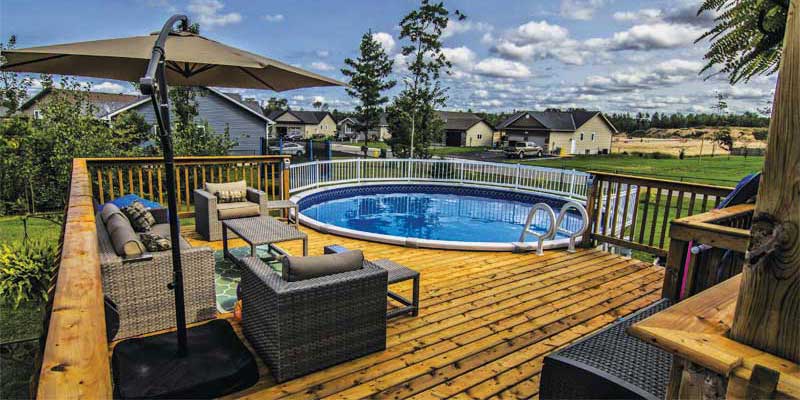 This 7.3-m (24-ft) round, 1.3-m (4.3-ft) high, above-ground pool, is perfectly inset into the corner of a 2.2-m2 (24-sf) deck, built by McKie Pools and Spas in Pembroke, Ont., which transforms this homeowner's property into the ultimate backyard entertainment centre.
As the homeowner lives in Petawawa, Ont., a region that typically experiences large seasonal temperature differences, McKie Pools installed thermal insulation between the liner and the pool wall and floor to help retain heat in the pool to extend the season. The pool was equipped with a two-speed pump to save energy, a sand filter, natural gas heater, and a salt chlorine generator.
The deck, built of pressure-treated pine, was an important feature for the homeowner, as it not only provided them walkout access to the pool, but also created space for socializing and lounging next to the water. The pool's resin top-rail, which meets code in most municipalities, was added to this project merely for esthetic purposes. It also served to create a visual break between the pool and the landscape beyond.
To co-ordinate the different elements from ground level, a garden was planted around the base of the pool to help blend it into the landscape, as well as complement the exterior of the home. The finished project's nice, clean, symmetrical lines creates an inviting place where the homeowner can 'staycation' in their backyard with family and friends.