By Jason Cramp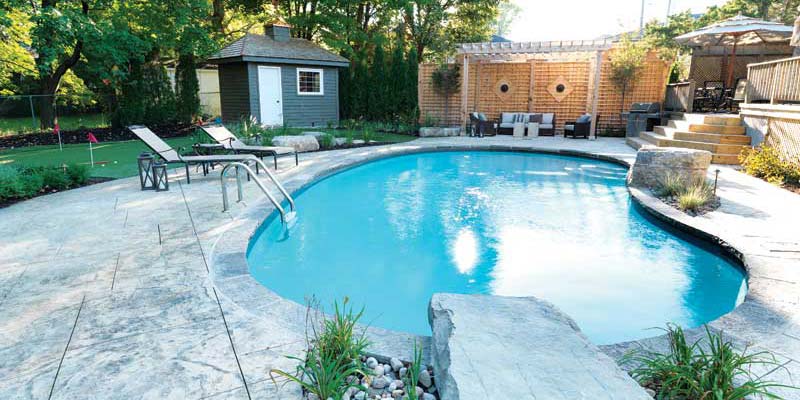 This North York, Ont., homeowner's backyard landscape was approximately 20 to 25 years old, and was in dire need of a makeover. As a result, M&S Architectural Ltd., of Gilford, Ont., was tasked with reinvigorating their backyard and create a place where the homeowner could relax and entertain.
However, this was not a simple project, as the backyard had to be completely overhauled. This included removing the existing concrete deck, which had shifted and heaved, along with the pool's tiles and 152-mm (6-in.) coping. Some of the additional backyard structures, as well as the fencing, also needed an overhaul.
As part of the restoration process, M&S Architectural re-plumbed the pool's return and skimmers, relocated the heater, and re-finished the pool perimeter using 63.5-mm (2.5-in.) thick ebel-flagstone coping, while the waterline line was finished with 152- x 305-mm (6- x 12-in.) tiles.
Once the plumbing was complete, a new stamped concrete deck was installed to co-ordinate with the pool's coping, while a stone diving rock and other accent boulders were added to complete the hardscaping. Pocket gardens alongside the pool and in amongst the poolside rock gardens were used to connect the pool area with the existing landscape plantings and natural ravine backdrop.
A 2.4- x 3.6-m (8- x 12-ft) custom cabana with prefinished siding and cedar shingles, along with a copper cupola and eagle weather vane replaced an older enclosure on the property, while a new poolside seating area was also added. Here, a cedar pergola and screen was installed to create privacy.
Another important element in the revival of the homeowner's backyard was the inclusion of a large putting green with four cup locations and a sand trap feature.