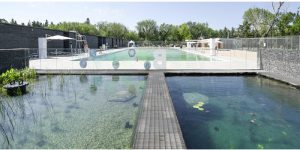 One of North America's only two natural swimming pools has been recognized for its architectural excellence.
The Ontario Association of Architects (OAA) has announced the winners of its 2020 Design Excellence Awards.
The biennial OAA Awards program offers Ontario architects an opportunity to present their work to the public and to a professional audience, demonstrating the excellence of both their practice and the profession as a whole.
Among the winners is The Borden Park Natural Swimming Pool, the first chemical-free public outdoor pool to be built in Canada. It was designed by gh3 architecture based out of Toronto.
Located in one of Edmonton's oldest parks, the facility comprises a toddlers' pool, an 800-m2 (8610 sf) pool, two hydro-botanic filters, and a 6000-m3 (212,000 cf) granular filter.
The design process began with developing a pool technology that cleanses the water through stone, gravel, sand, and botanic filtering processes. This inspired a materials-oriented concept for the change room facility to achieve a technically rigorous and esthetically integrated design whose gabion basket stone walls visually evokes the idea of filtration.
"I am so excited to finally be able to share the OAA's 2020 award-winners," says OAA president Kathleen Kurtin. "This year has required a great deal of resiliency from us all. For the architecture profession, we needed to quickly and safely close offices and construction sites, and then find new ways to work remotely."
"The Design Excellence projects showcase another example of resiliency—one that comes with creating beautiful spaces in which people can live, work, and play, while respecting the environment and acknowledging the need for long-term performance to address our climate change crisis," she adds.