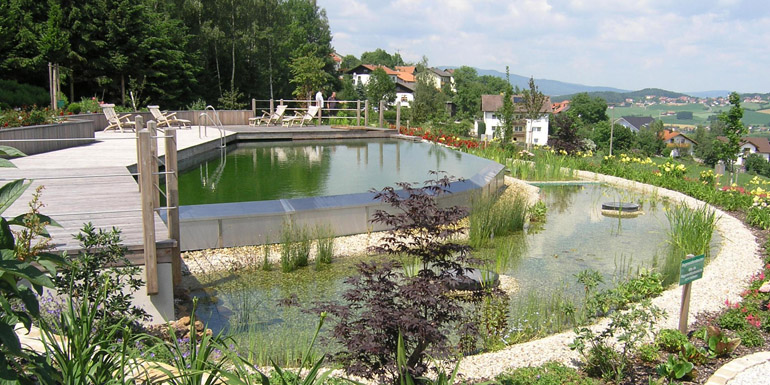 By Lisa Brooks
A natural swimming pool (NSP) or pond is an engineered system comprising a contained swimming vessel and a constructed wetland. The constructed wetland may be integrated with or separated from the swimming vessel. Water purification and clarification is achieved entirely via the use of biological filters, hydroponically rooted aquatic plants, and the balanced ecosystem contained within the wetland, without the use of any chemicals or devices that disinfect or sterilize the pool water. For bather health and safety, the NSP optimizes the conditions found in nature's water bodies.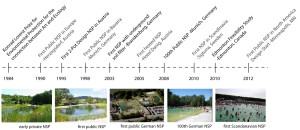 NSPs have been in use in Europe since the early '80s when Werner Gamerith, an Austrian engineer and environmentalist, together with his wife Tatjana, built one at their home in Austria. In 1984, the Gameriths were awarded the Konrad Lorenz Prize for environmental protection, for the connection between art and ecology. This recognition captured the essence of the NSP.
From that time, a rapid rise in popularity occurred, which resulted in more than 20,000 residential NSPs being constructed in more than a dozen eastern and western European countries. Today, NSPs can be found throughout the world, including Canada, the United States, Australia, Brazil, Bulgaria, France, Luxembourg, Italy, Spain, Portugal, Holland, Sweden, Turkey, Israel, Austria, Croatia, Serbia, the Ukraine, Russia, England, and Mauritius.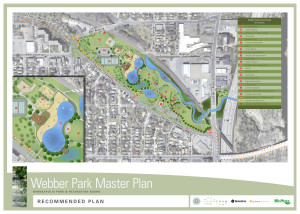 Public/commercial NSPs have been in operation since 1990, with the first, also built in Austria, still being operated today. In Germany alone, there are more than 100 public NSPs in use.
North America's first public NSP installation is currently being designed at Webber Park in Minneapolis, Minn., and is expected to open in spring 2014.
NSP element: The bathing zone
The contained swimming vessel is known as the bathing zone. It is isolated from soil, groundwater, and other structures by using a liner membrane, concrete, stainless steel, glass-reinforced plastic, or other impervious material. Among the various liner options are polyvinyl chloride (PVC), polyethylene (PE), flexible polyolefins (FPOs), and ethylene propylene diene monomer (EPDM).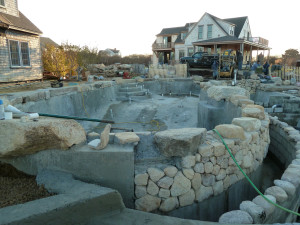 Each material has positive features and usage challenges that can affect cost and functionality on a regional basis. For instance, EPDM is a vulcanized synthetic rubber that is durable and flexible even in cold weather conditions, but is more difficult to achieve wrinkle-free installations. Different forms of concrete, including shotcrete, gunite, and cement block construction are also suitable materials for NSP vessels. The choice of vessel construction is ultimately determined by local experience, preference, and pricing.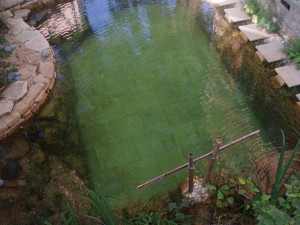 The bathing zone can be finished in any material acceptable to the NSP owner and suitable for climate and pool use. Applied over the pool shell, natural stones, ceramic/glass tiles, and various waterproof and cementitious finishes are each compatible with NSP design and construction. In colder climates, material selection may be determined, in part, by durability and safety for winter sports.
Bathing zones can also include various elements for safety and accessibility, including depths, slopes, benches, steps, anti-entrapment devices, and all aspects for compliance with the Americans with Disabilities Act (ADA). Options for sport and recreation functionality, including lap and racing lanes, slides and waterfalls, beach entries, diving platforms, etc., are also available.
Maintaining the bathing zone is similar to what is required for a traditional chemical-treated pool. In addition to skimmers and overflow gutters, manual and/or robotic vacuums can be used to control surface debris and sediment. Further, brushing can also be performed, as desired, to eliminate biofilm that may form naturally on surfaces.