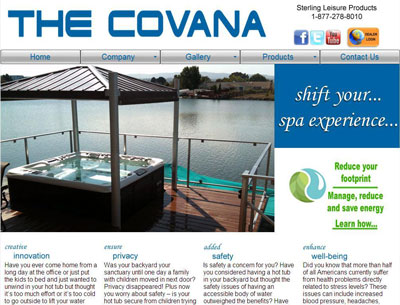 Sterling Leisure Products, a Calgary-based manufacturer of the Covana automated spa cover, has launched a new website designed to provide consumers with more information on the company's signature product.
"Department staff devoted many hours to design and develop a fresh new look and user-friendly website that would be easy to navigate," says Sterling's Charlene Dyck, who oversaw the redesign. "Our new website is better organized to help people find the pertinent information they need when it comes to making the decision to buy a Covana."
In addition to information, the site also offers a photo gallery, links to the company's Facebook, Twitter and YouTube pages, and client testimonial and promotional videos.