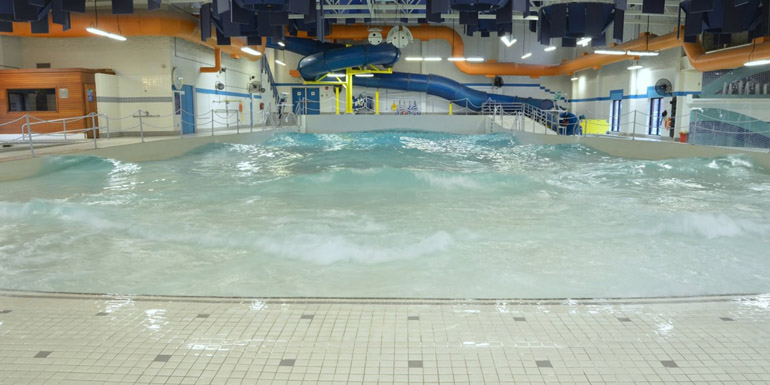 By Ralph Kittler, P.Eng.
Sooner or later an indoor pool facility will require a heating, ventilation, and air conditioning (HVAC) system retrofit. For many hotels, community, and school pools built in the 1980s and early 1990s this is happening now because their HVAC systems are close to the end of their typical lifecycle, which is approximately 15 to 25 years.
Pool operators with original equipment in facilities built during these time periods may want to start considering the idea of replacing their pool dehumidifier and/or ventilation unit. Even equipment dating back to the late 1990s is a candidate for full review in light of the energy-saving benefits today's technology offers, as well as from the standpoint of annual maintenance costs associated with using older HVAC equipment.
Operational cost reductions and energy savings are the rewards of an indoor pool HVAC system retrofit; however, many facility operators discover that replacements in many of these facilities come along with logistical challenges. In fact, for many facilities, the most challenging retrofit problem can simply be getting the replacement unit into the building as few mechanical rooms are designed with retrofits in mind.
For example, many mechanical rooms might only have a 1.8- x 2.1-m (6- x 7-ft) double-door entrance on an interior wall or worse yet, a single 813-mm (32-in.) pedestrian door. Unfortunately, a dehumidifier or ventilation unit for a mid-sized community indoor pool can span up to 2.4 m (8 ft) wide with lengths of 3 m (10 ft) or more. Consequently, contractors are often forced to use a complicated knock-down approach when installing a replacement HVAC system. These units are designed specifically for these scenarios as they can be disassembled into multiple pieces and then reassembled inside the mechanical room. In terms of initial cost, these systems are much more expensive when compared to a standard, single-piece production unit.
Luckily, there are many options facility operators can consider should the mechanical room in their facility be inaccessible or provide little room to perform a complete retrofit. Each one has its own advantages as related to the given site conditions and retrofit budgets:
Remove door and bricks as needed around access openings to accommodate the replacement unit.
Have a replacement unit custom-built to fit through available access doors.
Open the roof to gain access to the mechanical room.
Knock-down the unit into smaller sections and reassemble as a complete unit inside the mechanical room.
Gut the unit on-site and assemble new components into the original dehumidifier's shell.
Use several smaller modular units designed to fit through 813-mm (32-in.) doors that can be combined to provide the same operating capacity of the original, larger unit.
Sometimes retrofit selection committees only focus on custom equipment requirements and forget that a few site accommodations can dramatically reduce costs and simplify the project scope. Knocking out a few bricks around a doorway to expand it may cost only a few hundred dollars and could possibly save tens of thousands of dollars by avoiding the need to custom-build an HVAC system simply to fit through a small doorway. Typically, the bigger the opening is, the installation becomes easier and less costly.
Assembling units inside a mechanical room can be challenging. These systems are quite complex and the reassembly requires care and refrigeration experience. Manufacturers often recommend the units designed for disassembly be shipped to the jobsite as an assembled system, and then broken-down into more than three sections. It is easier for contractors to reassemble a system if they disassemble it. Likewise, the manufacturer should also be privy to the site's access limitations so they can design a unit with the fewest possible sections.
The weight of each section is also an important consideration. A narrow access way may only allow one or two riggers and a handcart to fit, which would require lightweight loads to manoeuvre. Therefore, it is important to find a consulting engineer, contractor, and a manufacturer that can explore all the aforementioned alternatives and help choose the most feasible method.