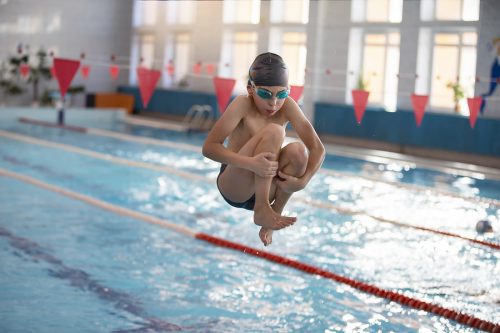 LAGO Gent Rozebroeken, a water park in Belgium, celebrated its 10th anniversary with a collective cannonball dive, performed successfully by 298 of the 345 divers who attempted it at the park's Olympic-sized indoor pool, establishing a Guinness World Record in doing so.
A cannonball is a special kind of dive which is performed by raising the knees to bring them closer to the chest and clasping them with both hands.
According to Guinness World Records guidelines, for the dive to be considered valid for the competition, the stance had to be maintained throughout by the divers, even when hitting the water. Previously, the number of people who had been successful in a collective cannonball dive was 232 in New Zealand in 2013.
The dive was led by an adjudicator from Guinness World Records, and his monitoring effort was supported by an aqua fitness instructor present at the event. Before a three-two-one countdown from the adjudicator, everyone stood around the edges of the 50-m (164-ft) pool.