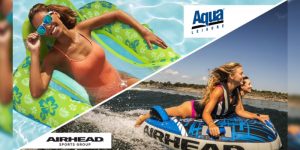 Aqua-Leisure Recreation has purchased Airhead Sports Group, a designer, distributor, and supplier of outdoor branded products for recreational water sports.
According to the company, the acquisition will increase Aqua-Leisure's global footprint, expand the company's sourcing and distribution capabilities, and boost manufacturing potential, as well as product development capabilities.
"The Airhead family of brands is a natural fit for the Aqua-Leisure portfolio," said Steve Berenson, the company's CEO. "Our combined product offerings will be able to satisfy greater consumer demand for a wider range of outdoor recreational activities. We're excited to move forward under my direction with this next phase of growth and innovation with the Airhead team."
This is the first add-on acquisition for Aqua-Leisure since Blackford Capital acquired the company in January 2021. Under Blackford's ownership, Aqua-Leisure has experienced growth in both e-commerce and traditional retail channels driven by the company's product offerings, salesmanship, and global sourcing acumen which allowed for on-time deliveries despite supply chain issues faced during the pandemic.
"This acquisition is a significant step in Blackford's growth strategy for Aqua-Leisure," said Martin Stein, founder and managing director of Blackford Capital. "Bringing these two companies together creates an extremely strong portfolio across watersports, marine, and pool and float categories, allowing us to drive new growth and long-term profitability."
As part of the Aqua-Leisure portfolio, growth and scale synergies will be realized, said
"By optimizing these complementary capabilities, we will continue to exceed customer and consumer expectations for product quality, innovation, and successful on-time-delivery as we actively improve our competitive positioning within the watersports and winter leisure categories," he said.
The existing leadership team at Airhead will remain intact following the transaction close. Nichols will become chief operating officer of the combined group. He will report to Berenson with responsibilities for operations of the consolidated business and corporate integration.