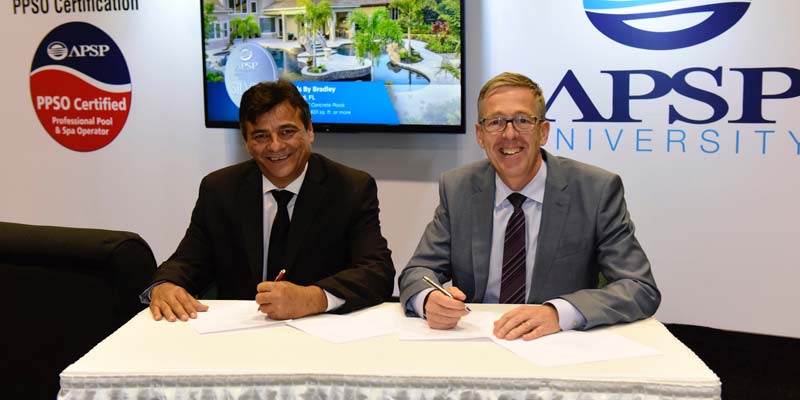 The Association of Pool & Spa Professionals (APSP) and Asociación de Profesionales de la Piscina A.C. (APPAC) have announced an international partnership, which will see the two work together with the goal of advancing the pool and hot tub industry.
APSP president and CEO Rich Gottwald and APPAC president Ignacio Barroso signed the agreement making a partnership to promote, advance, and advocate the interests of the aquatics industry in Mexico.
"This partnership gives us the opportunity to jointly focus on educating, inspiring, and engaging a broader audience on issues that impact the industry," said Gottwald.
An important aspect of the partnership will be sharing of best industry practices and leveraging the shared values of both organizations to develop new concepts and activities that expand the impact of each organization.
"Our organizations working together will further the goal of standards harmonization, advancing the industry's need for uniform codes," said APSP vice-president of technical and standards Carvin DiGiovanni. "Through our collaboration with the APPAC we can help advance the international adoption of codes and standards to ensure pools and spas are built and installed safely."
This network will allow each association to expand the reach of protecting and educating the aquatic community, said Barroso.
"At the APPAC, our passion is to share that view with the world and to inspire people to participate in the industry. We believe we share those values with the APSP."
During the annual APSP awards reception, held on Oct. 31 in Orlando, Fla., the partnership was highlighted and representatives from the APPAC attended.