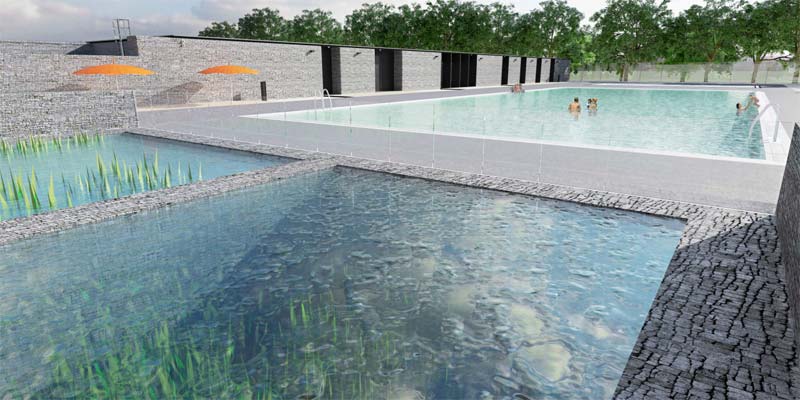 The natural swimming pool (NSP) at Edmonton's Borden Park, part of a revitalization plan which began in 2010, is set to open this week.
According to the city, the pool will be the first public amenity of its kind in Canada and will provide a unique recreational opportunity for area residents. Instead of using chlorine or bromine to sanitize the water, aquatic plants and a combination of sand and granite filters will be used to maintain the water. As no chemicals are used to disinfect the water, the pool's guidelines are different from other outdoor pools and the city asks residents to read up on them before visiting the facility.
Through the Outdoor Aquatic Strategy 2008-2017, approved by city council in 2007, the Borden Outdoor Pool, originally built in the 1950s, was designated for rehabilitation. During public consultation and the development of the Borden Park revitalization plan, it was determined that a natural swim experience was a great way to maintain the legacy of this historic park, while also prepare it for the future.
The project was tendered for construction in June 2014; however, it was cancelled after all of the bids the city received came in over budget. To stay within budget, the facility was redesigned to find savings and efficiencies and, as a result, elements such as the natural filtration system were kept, while winter skating opportunities were cut.
Towards the end of 2015, the project was successfully re-tendered and construction began in spring 2016. The NSP was designed by Gh3 Inc., a Toronto-based architectural firm, while Morrison Hershfield, a North American engineering firm, consulted on the project.