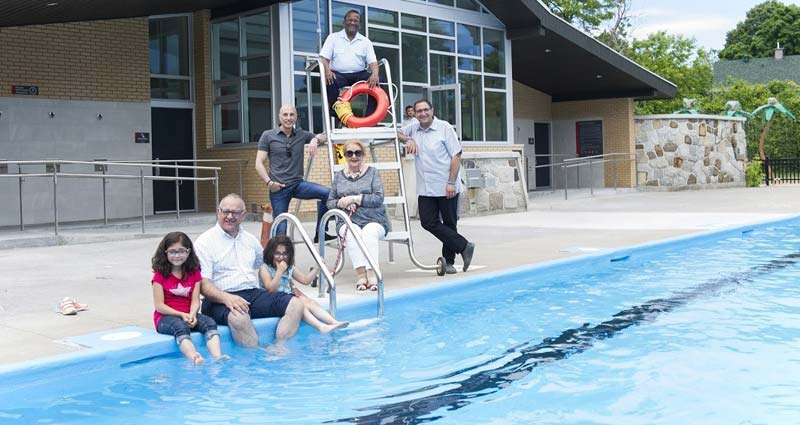 After being closed all last summer for major renovations, the shelter and pool at Parc Decelles in Saint-Laurent, Que., recently reopened to the public.
Built in 1964, these facilities underwent an overhaul for the first time last summer, resulting in the closure of the pools all last season. Now, the public will be able to benefit from a pool that has been brought up to standards and equipped with a new filtration system. As for the park shelter, it is now accessible to people with limited mobility. It has also been expanded and all interior spaces have been renovated, including the entrance hall, the lifeguards' office and the changing rooms for men and women. A family changing room has also been added, as well as a charging station for electric vehicles. With these improvements, the park is aiming for a Leadership in Energy and Environmental Design (LEED) silver green building certificate.
"These renovations were designed to provide all residents with access to modern, environmentally-friendly sports facilities that meet today's standards," said Saint-Laurent Mayor Alan DeSousa. "These improvements are also in line with Saint-Laurent's overall will to ensure, for the past several years now, that its parks are well-maintained and modernized.
"Substantial funds are earmarked for this purpose in the three-year capital investment program. In 2017 alone, $4.5 million was invested in the rehabilitation and redevelopment of our parks."
The facilities at Parc Decelles include a baseball field, a 400-m2 (4305-sf) T-shaped pool, a wading pool, and splash pads. In the summer of 2016, nearly 15,000 pool users had been recorded. In total, Saint-Laurent's parks feature more than 30 water facilities, including 16 splash pads, nine wading pools and eight pools.