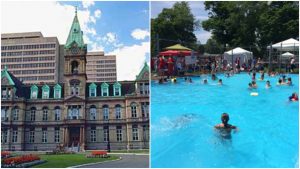 Some Halifax, N.S. residents say city plans to build a new pool on the Halifax Common lack transparency.
As reported by CTV Atlantic, city staff are proposing to replace the current pool at the location which was built in the 1960s. A $16 million replacement plan has already received council approval.
However, a group called The Friends of Halifax Common is raising some questions on how the project came together.
David Garrett, a member of the group, told CTV "the public has not seen anything with regards to that pool for about two years."
According to him, the group wants to see the master plan for the pool replacement project which has been in development for four years.
However, as per CTV, Halifax chief administrative officer Jacques Dubé said 2400 people were consulted in four public meetings and two online surveys.
Garrett said while the group is not necessarily opposed to the new pool, there are concerns about the diminishing amount of green space around the Common.
CTV reports the city requires approval from the province before any construction begins.