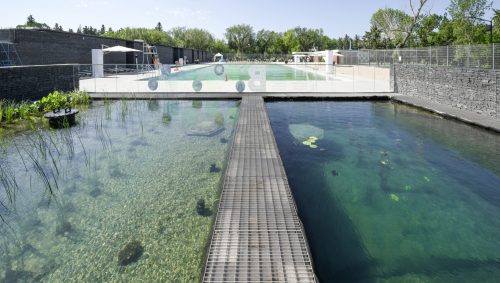 The natural swimming pool at Edmonton's Borden Park has received an award in 'Innovation' from The Royal Architectural Institute of Canada.
The prize acknowledges architectural prowess in areas such as research and development, applied use of new technology, and adaptation.
The project is the first chemical-free public outdoor pool in Canada and includes a seasonal pavilion and landscaped area for 400 swimmers. The building houses universal change rooms, showers, washrooms, staff areas, and water filtration mechanisms.
The pool features high-quality water control while also achieving an environmentally healthy and natural cleaning process, that uses stone, gravel, sand, and botanic screening methods.