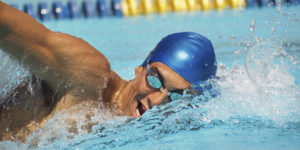 Canadians played a major role in helping Energy Standard's swim club race to victory as the first-ever International Swimming League match concluded in Indianapolis.
Kayla Sanchez and Penny Oleksiak of the High Performance Centre (HPC)–Ontario closed out Energy Standard's winning mixed-freestyle relay to extend the team's lead.
Sanchez was fresh off a third-place finish in the 200-m (656-ft) individual medley and returned to the pool to swim the third leg of the mixed relay and keep her team in the lead. Oleksiak followed as the anchor to secure the win.
"It was really fun. I didn't really know what to do once I dived in except for trying to hold on," said Oleksiak. "We were moving pretty quick and it's awesome to have many 100-freestyler men and women."
With the relays counting for double points, Energy Standard held off a charge from the Cali Condors, another swim team to feature Canadians prominently. Kylie Masse of Windsor, Ont., finished in second-place in the 100-m (328-ft) backstroke.