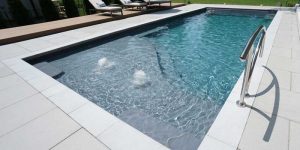 Thursday Pools has created two new, small-sized fibreglass pools designed specifically for smaller backyards.
Produced for the growing number of urban developments in Canada, the new Aspen pool is available in 3.66 m x 7.62 m (12 ft x 25 ft) and 4.27 m x 9.15 m (14 ft x 30 ft) sizes to fit any compact yard. Although smaller in size, the pool offers luxury features including a built-in tanning ledge, steps, and socializing bench as well as dual swim-out benches and a courtesy ledge in the deep end for standing or resting. Available in seven different colours to match the latest in backyard design, the pool is 1.68 m (5.6 ft) deep, and ready for auto covers.
Its patented design was created to meet consumer demand for a resort-style pool while helping professionals maximize the number of pools they install this summer.