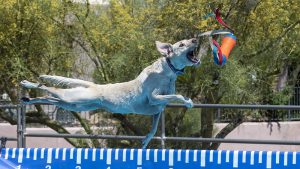 The first sanctioned 'dock diving' facility for dogs has officially opened on Vancouver Island.
As reported by CTV, Pooch Pools School owner Kim Sirett said she has been wanting to open the facility for about a decade.
The school's 15-m (49-ft) pool is sanctioned by North America Diving Dogs, which according to CTV, organizes and sanctions dock diving competitions.
The article explains in these events, dogs run the length of a 12-m (39-ft) dock then jump into a pool to fetch a toy. Competitors are judged on height and distance.
In addition to training, the school also offers aqua therapy and swim lessons.
CTV reports the facility is scheduled to host it first sanctioned competition on August 22.