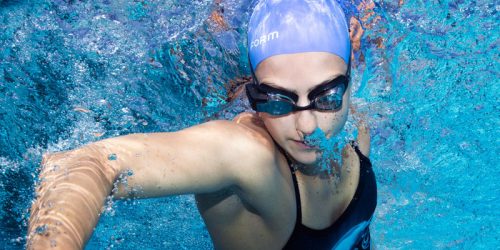 Form, a sports technology company, will be releasing smart goggles for competitive swimmers.
The technology was developed over the past four years in collaboration with top swimmers and coaches, including former Olympians.
The key features include an augmented reality (AR) display that is integrated into the goggles lens, which provides a see-through experience and appears in focus. There is a miniaturized onboard computer with compact profile and 16 hours of battery life, which uses artificial intelligence (AI) to track and display metrics like split times, distance, stroke rate, and count.
The goggles use high-grade materials and manufacturing processes to provide optimal fit, durability, and hydrodynamics in a design that feels similar to a regular pair of swim goggles.
To coincide with the launch of the googles, there will be a Form Swim app for iPhone and Android. This app enables swimmers and coaches to review and share workouts recorded by the goggles as well as track progress over time. It also gives swimmers the freedom to customize exactly which metrics are displayed in the goggles and when each statistics appears: while swimming, after turns, or during rest.
"I swam competitively for 14 years and felt the pain of not being able to access my metrics in real-time," said Form's founder and CEO Dan Eisenhardt. "The idea for the company came many years ago, but we are now entering a time where technology lets us deliver this experience seamlessly in a pair of swim goggles."