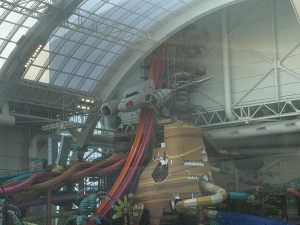 According to officials, four people were injured over the past weekend when a decorative helicopter structure, suspended from the ceiling, fell into a pool at the DreamWorks Water Park in American Dream mall in East Rutherford, New Jersey.
The injured visitors were attended to by state troopers. One of them was taken to the hospital, while the rest were treated at the scene for minor injuries. The mall released a statement saying it was conducting a thorough investigation to ensure compliance with safety regulations and the safety of guests was their top priority. Patient confidentiality restrictions were cited as the reason for the mall's inability to provide additional information.
The waterpark was evacuated thereafter and shut down for the review, and is expected to open this Wednesday. However, the New Jersey Department of Community Affairs (DCA) has ordained the pool to remain closed until a thorough investigation of the incident can be completed.
DreamWorks Water Park is housed in the Meadowlands Sports Complex, nearly 20.9 km (13 miles) west of New York City.