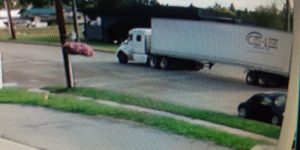 RCMP in southern Alberta are on the search for a truck driver who allegedly stole a number of hot tubs from an Arctic Spa manufacturing site.
According to police, a transport truck pulled into the site, located in Thorsby, Alta., with the driver providing false information, and the spas were loaded onto the truck.
The models stolen included an Ocean, Totem, Aurora, Yukon, Fox, and two Tundras.
The driver is described as 5'6" white male between 30 and 40 years of age, with short brown hair and an unshaven face.
The truck is a white Volvo with a sleeper and van body trailer.
In a post on its company Facebook page, Arctic Spa officials said: "We believe that this was a highly co-ordinated organized crime syndicate that steals a reputable company's identity, in this case, a trucking company, gains access to secure logistics systems, and fraudulently represents themselves to freight brokers who contract them for the shipment. These people are professional criminals, suspected of many similar incidents that are under investigation by authorities across the country."