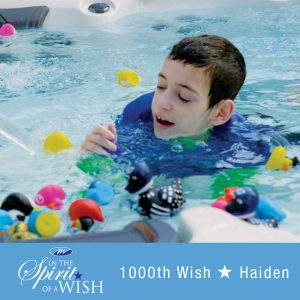 Marquis Hot Tubs and other North American companies teamed up to provide a young Seattle, Wash., boy with a hydrotherapy hot tub designed to mitigate his epilepsy.
According to Ryan, Haiden's father, a hot tub made perfect sense. "We knew with the hot tub, Haiden would spend every day in there, for as much time as he could. The idea that Make-A-Wish partners with people like Marquis, and figures out how to make something special for each child, is incredibly valuable. This will make Haiden's life better, and is something he will enjoy for years to come," he says.
Haiden's wish marks a milestone: 1000 wishes granted by Marquis and Make-A-Wish since their partnership began. First inspired by a child's wish for a hot tub in 2000, the partnership has since generated more than $6.8 million in donations and discounts to Make-A-Wish® America, Make-A-Wish® Canada, and Make-A-Wish® United Kingdom. Marquis remains committed to giving exceptional hydrotherapy to children with critical illnesses.
After Haiden's hot tub was handcrafted by Marquis, local retailer Seattle Hot Tub donated its time and labour to ensure a smooth delivery and installation experience. "Obviously, this is a huge honour for us," said company president Nelson Bryant. "But, at the same time, there were 999 wishes before this that made a huge impact on children's lives. A lot of work goes into the logistics, and every wish takes a team of people to fulfil, but it is so very worth it. Most of our team have families and children of their own, so fulfilling hot tub wishes really hits home. Best of all, we have built a special bond with Haiden's family."
In celebration of their 1000th wish, Marquis introduced a new version of its aptly named 'Wish' model. The new design includes advanced therapy features exclusive to its flagship Crown Collection. During the month of April, Marquis is offering $1000 off the Wish hot tub at participating dealers. Additionally, for each Wish model sold in April, Marquis will donate $100 to local Make-A-Wish chapters in North America.
Thanks to wish kids like Haiden, Marquis remains committed to giving exceptional hydrotherapy to children with critical illnesses.