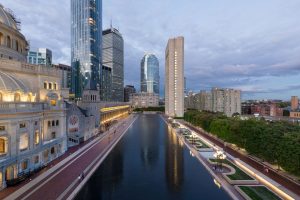 The Reflecting Pool in one of Boston, Massachusetts, most iconic urban landscapes, the Christian Science Plaza, has undergone a major rebuild to reduce its water consumption by almost 70 per cent, as part of the sustainability-minded renovation of the plaza.
Arcadis IBI Group, in the capacity of landscape architect/environmental planner, led this multi-year restoration and repair project for the Christian Science Plaza. The Reflecting Pool's state of disrepair contributed to an unsustainable loss of potable water each year caused by leakage into the garage below. To reduce water consumption, the pool was completely dismantled to replace the waterproofing of the garage deck roof below and rebuild its basin to prevent future leaking. The reconstruction enabled the design team to reconsider the original pool design—resulting in a new concept providing year-round beauty for the five months when the pool is usually empty, while establishing extensive water conservation and management measures throughout the site.
To support the water management strategy, the reconstructed pool was made shallower, decreasing its depth from 686 to 203 mm (27 to 8 in.), and reducing by two-thirds the amount of water required annually. By shortening the length of the 213-m (700-ft) pool by 4.8 m (16 ft) on the southwestern end, the Plaza was made more accessible and welcoming to pedestrians from Huntington Avenue.
Additional sustainability improvements throughout the plaza include stormwater management measures to capture more than 52 million L (14 million gal) of rainwater and decrease municipal water consumption. The replacement of pavement and hardscape materials with green space and pervious surfaces will reduce heat retention and cut stormwater runoff by half.
Some of the other key pool rebuild project partners involved were the construction manager, Consigli Construction Company, Inc.; waterproofing and structural engineer, Simpson Gumpertz & Heger (SGH); and Reflecting Pool design consultant, DEW Inc.
The Christian Science Plaza is one of the largest privately-owned publicly accessible open space in Boston, spanning 5.46-ha (13.5-acre), and is associated with a mid-century update to The Mother Church and world headquarters of The First Church of Christ, Scientist (TFCCS).