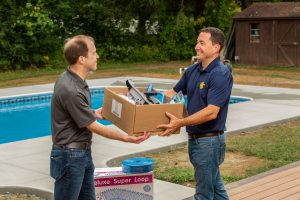 Pennsylvania-based JED Pool Tools is now creating 'custom maintenance kits' for pool professionals. These kits can contain any of the products a pool professional wants to provide to their customers to ensure they have what they need to maintain and enjoy their pool.
From chlorine dispensers, leaf skimmers and wall brushes to telescoping poles and thermometers. Many pool professionals even include a soft touch football and dive sticks to gift to their customers as thanks for their business.
JED Pool Tools will package whatever products pool professionals choose and will label the exterior of the box with the pool company's name and contact information.