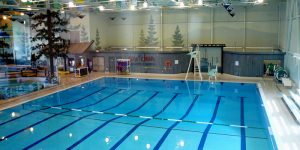 The major retrofit and expansion of the Cowichan Aquatic Centre in Duncan, B.C., partly funded through a $2.377 million federal gas tax grant, is now complete.
This project delivers improvements to the facility including an expansion of the competitive pool deck, gym, group fitness rooms, and spin room; along with new folding bleachers and private spaces for fitness consultations.
Construction of the scheduled expansion started on schedule last June, despite the facility's closure due to COVID-19. Staff used this time to begin work while minimizing future interruptions to users and work was mostly complete when the centre re-opened to the public in October.
"We are so excited that this construction is now fully complete," said Mayor Al Siebring. "This well-loved facility has the extra room to accommodate more users and groups so even more folks can come together in pursuit of health and wellness.
"In addition, the expansion of the deck and user group space will allow us to bid on more competitive opportunities and enhance our ability to attract more sports tourism," he concluded.