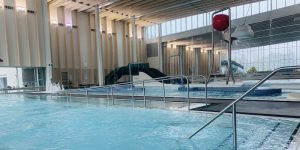 The nation's largest hot tub is just one of the many amenities at a new aquatic centre which opened in Richmond, B.C. this week.
The facility, located at the Minoru Centre for Active Living, officially welcomed visitors on Monday, September 21.
Originally scheduled to open in March 2019, the project was delayed nearly a year-and-a-half after a crack was found in one of the lap pools.
The indoor facility features six bodies of water and is located next to Minoru Park, Minoru Arena, and the Library and Cultural Centre.
Other features include a leisure pool with river run, slide, and rain shower; two 25 m (82 ft) pools with a total of 14 lanes; a family hot tub (the largest in Canada); an adult hot tub; a 'polar plunge' pool set at 15 C (59 F); steam room and saunas; rock climbing wall; a drop slide with a 1.5 m (5 ft) free-fall drop; and a diving board.
In keeping with COVID-19 protocols, the aquatic centre is open with reduced capacity and pre-registration will be required for 75-minute swim sessions. Limited drop-in spaces will also be available each session on a first come, first serve basis.
"The Minoru Centre for Active Living is a facility that everyone in the city can be proud of and we are delighted to finally be able to showcase its many features," said Richmond Mayor Malcolm Brodie. "While we are only able to provide access in a controlled manner right now due to our COVID-19 safety protocols, we encourage everyone to take some time to come and experience the centre themselves."