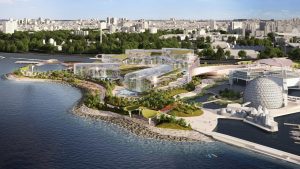 Following public backlash over the original plans, the developer set to construct a sprawling indoor private spa and waterpark on Ontario Place's West Island has unveiled updated designs, with a smaller main building and a public park space expanded by 1.62 ha (4 acres).
According to report by CTV News, the Austria-based resort company, Therme, which secured a long-term lease agreement for the project, encountered dissatisfaction during community consultations, held by the City of Toronto in April, regarding their initial renderings.
According to CBC News, Therme Group CEO, Rober Hanea, said in a press release: "The design that we revealed today delivers the same great waterpark and wellbeing attractions, but thanks to feedback, it has even more open parkland, more natural spaces, more public trails, and more places for people to gather."
Moreover, as per the CTV News report, the alterations include a 25 per cent reduction in the volume of the main Therme building, transitioning from one large structure to several smaller ones. The pedestrian bridge to the West Island has been reimagined as a green space and public pathway. The new plans also incorporate a larger rooftop public realm that facilitates direct pathways to the water's edge.
The report further states the updated design pays homage to the site's Indigenous heritage and was developed in collaboration with the Mississaugas of the Credit First Nation (MCFN), according to Therme. Therme expressed in the report that MCFN chief approved of the design.
The CTV News report concludes that despite these revisions and the province's agreement, opposition from citizen groups and municipal leaders persists. The concerns raised include potential impacts on local wildlife and increased traffic congestion. The future of the project remains a point of contention, with differing perspectives on its location and impact.
The images of the updated designs can be seen here.