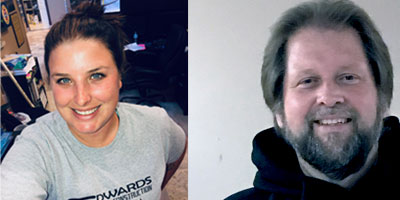 After receiving more than 75 entries to its popular contest, Pleatco, recently revealed the winners of the 2019 Perfect PoolGuy and PoolGal search.
Jim Hedlund of New England and Averi Edwards of Rose Hill, Kan., are the final winners of this year's contest, which is cosponsored by GENESIS® and the Pool & Hot Tub Alliance (PHTA).
In response to winning the 2019 PoolGuy award, Hedlund said: "It was extremely humbling to find out my daughter nominated me for the award. Operating a seasonal family business in New Hampshire has its challenges and one of them is (in season) you're always running 100 miles per hour, so I really never get to see these things as they're happening.
"Being nominated forced me to take a few minutes to slow down and think about what the business means to me and my family. I'm grateful to Pleatco for sponsoring this contest, the industry for affording us the opportunity, my team, as without them we couldn't achieve any of this, my family, for their support during all the good and bad times, and mostly my wife for standing beside me through all we've accomplished."
Edwards is a second generation pool professional, has been in the industry for six years, and wears many hats within the family business. She started as a rookie in the field but her never-ending hunger for knowledge has helped her grow her abilities as a service technician. In the last several years, Edwards has split her time between managing a hectic service department, assisting with day-to-day operations of the construction side of the business, and running her own service and repair route three days per week.
"I'm truly honoured to receive the Pleatco Perfect Pool Gal title," she said. "This is clearly the most significant event of my professional career thus far. I look forward to the educational and networking opportunities I'm being offered. I would like to thank my family, friends, and fellow pool professionals for their support in this endeavor. Thank you Pleatco!"
Due to the number of worthy entrants, Pleatco once again expanded this year's contest by creating additional awards.
"During our final interviews, we were impressed by the calibre and diversity of so many individuals that we felt it was proper to recognize the outstanding achievements of several other entrants," said Pleatco's CEO, Rick Von Drehle. "In that spirit, we selected contestants for special awards based on their contribution to their community and the pool and spa industry."
The recipients of these awards include:
Ed Zaborski (Rhode Island) Lifetime Achievement Award
Katie Poppa (Pennsylvania) Community Leader Award
Jay Crittenden (Tennessee) Backyard Hero Award
Kayne Zamorano (Arizona) Future Leadership Award
"The service industry is extremely important when it comes to helping owners fully enjoy and appreciate their pools," said GENESIS® Ambassador and co-founder Brian Van Bower. "We're proud to help honour our hard-working service professionals through the Pleatco contest!"
This year's Perfect Pool Guy and Perfect Pool Gal each received a trip for two to the International Pool | Spa | Patio Expo which was held this month in New Orleans. While at the show, both winners were able to attend a GENESIS® school free of charge ($5000 value), while winners (and finalists) also received a free ($1100 value) PHTA course.
"On behalf of Pleatco, GENESIS,® and Pool & Hot Tub Alliance, we'd like to thank everyone who entered, nominated, and voted in our 12th annual 'Pleatco Perfect Pool Guy/Gal Contest'," said Pleatco's vice-president chief commercial officer, Jeff Smith. "We've been truly overwhelmed by the sheer quality of the nominations and the thousands of votes cast. The entries were compelling and heartfelt across the board."