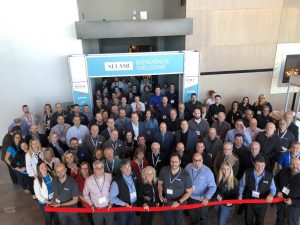 The 27th Salon Splash show, the annual one-day conference for Quebec's pool and spa industry, is taking place at the Centre des congrès de Quebec in Quebec City, Que., on Nov. 27.
The event provides networking opportunities, the ability to see the latest products, and witness industry leaders be rewarded for their efforts.
The 21st Excellence Gala will follow the expo. Winners of the L'Association des commerçants de piscines du Québec's (ACPQ's) annual awards, which are judged by consumers, includes the categories such as 'Retailer,' 'Vendor,' and, 'Installer' of the year. Also, the nominees for the 'Home Pool and Spa Safety Retailer of the Year' will be announced as part of the celebration.
This year's event will feature a musical performance—without computerized or pre-recorded technology—by The Showmen. The group draws from a diverse range of artists such as Sinatra and AC/DC.
ACPQ is now booking exhibitor booth space and sponsorship programs. Those interested in exhibiting can register online or e-mail Emmanuelle Da Ponte at info@acpq.com.
Prior to the Salon Splash Show, the ACPQ will hold its 22nd annual golf tournament on Sept.11 at the Club de golf de Le Versant in Terrebonne, Que. This social event offers awards and prizes, and auction banquet.