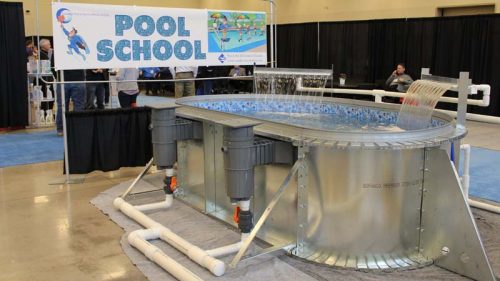 Industry professionals attending this year's Canadian Pool & Spa Conference & Expo will once again get the chance to hone their skills by attending the 'Pool School.'
In what has become a staple of the conference and expo, which is taking place December 2 to 5 at the Scotiabank Convention Centre in Niagara Falls, Ont., this year's Pool School, led by Rodney Taylor of Sunshine Pool & Mechanical Contractors (1994) Ltd., will include a functioning pool built on the show floor. It will be used to hone the technical skills of participants on the areas of automation and hydraulics. Presented by Fluidra, the Pool School will feature a range of the company's products to allow attendees to learn about the installation and service aspect of Jandy pumps, filters, and heaters on the VersaPlumb system, as well as learn how to connect and operate various set-up scenarios using iAquaLink automation. Fluidra's booth (812) will be located nearby for those who have specific questions about the installation.
After its successful launch at last year's show, the 'Passport Game' will also make its return this year. Once again, when attendees pick up their badge they will receive a passport to collect stamps from each exhibitor who is a 'Gold' or 'Silver' sponsor. Those attendees who complete their passports will be eligible for a chance to win a range of prizes.
In addition to this interactive incentive, more than 100 exhibitors will display their products and services on the show floor. The event, organized by the Pool & Hot Tub Council of Canada (PHTCC), will feature a number of education and social networking opportunities. In addition to the two-day, internationally recognized Certified Pool/Spa Operator (CPO) training course (December 2 and 3), the PHTCC is also making a number of 'short courses' available that cover a variety of subjects such as pool hydraulics, business concepts, pool installation 101, water chemistry 101 and 201, pool and spa handover, pool operation, and tips, techniques, and tricks of the trade. Individuals can register to take any or all of the short courses.
The educational program will also comprise a series of novice and intermediate presentations designed to enable participants the ability to achieve their 'Aquatic Recreation Industry Specialist' and/or 'Aquatic Recreation Industry Expert' designation through the PHTCC's certification program. The following sessions will take place in designated seminar rooms: 'Marketing your Company Online,' 'Understanding Leak Detection,' 'Spa Pak Diagnose and Troubleshooting,' and 'Advanced Modern Sanitation.' Attendees can also participate in a series of sessions on the show floor, including 'Social Media Marketing for the Pool & Spa Industry,' 'Backyard Automation,' 'Future of Stainless Steel in the Canadian Aquatic Industry,' 'Virtual Healthcare,' and an 'Expert Panel' comprising of four highly skilled panelists.
Additional show highlights include the 2019 Design and Construction Awards and Industry Achievement Award banquet dinner, sponsored by Pool & Spa Marketing and Pools, Spas & Patios. This formal event will be held on December 3 and will comprise a delectable dinner followed by the presentation of the PHTCC's national awards.
An 'Industry Cocktail Reception,' will be held the following evening (December 4) at the Dragonfly Nightclub located across the street from the Hilton Hotel & Suites, the show's headquarters hotel.
In addition to the complimentary lunch that will be offered on the show floor on December 4, a breakfast will be offered on the final day of the show (December 5).
Watch for the December issue of Pool & Spa Marketing as it contains your official guide to the 2019 Canadian Pool & Spa Conference & Expo.