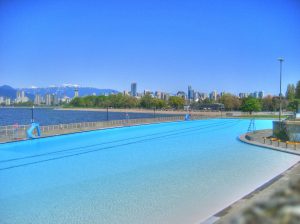 After a nearly half-year-long closure for repairs, Vancouver's Kitsilano Pool will reopen this coming long weekend with capacity limits, due to staffing shortages.
Currently, the City of Vancouver is faced with a dearth of qualified pool staff, which impacts the crucial visitor-to-lifeguard ratio.
"Not unlike other municipalities in the Lower Mainland, Vancouver is experiencing a staffing shortage … Although Kits Pool may appear to have space for those waiting in line, capacity for pools is not based on the size of the facility itself," read the statement.
The opening on Saturday, July 30, will accommodate only a limited number of swimmers
From August 2 onward, the pool's management will determine the number of people to allow into the pool daily depending on the available human resource.
The only saltwater pool in the city, which was built near the Kitsilano beach, had been shutdown in January 2022, when an exceptionally high tide from a severe winter storm had caused cracks to appear at the bottom of the pool tank.