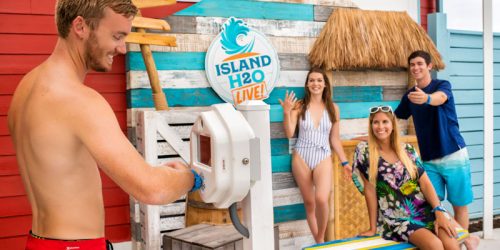 Vantage has won a World Waterpark Association (WWA) Leading Edge Award for its work on Island H2O Live!
The technology innovation company has been recognized, alongside parent company WhiteWater, Horizon Waterpark LCC, Innovative Attraction Management, and Aquatic Development Group, who all contributed to the Florida waterpark. H2O, which opened in June, uses Vantage's guest engagement and operational optimization platform to help it stand out in a competitive market.
The system works through the Vantage app that guests download. Upon arrival in the park, guests are given a Vantage Smart Band which allows them to use H2O's technology and engage their social networks through the app.
If guests do not want to use their smartphones, there are kiosks located throughout the park where they can tap their band to create their own in-park experiences (with customizable themes and playlists while on attractions), share memorable moments on social media instantly, locate their friends, find out which attractions have shorter queue lines, and more.
The app also allows guests to earn points that can be redeemed throughout the park. This includes loyalty points assigned to each of the rides that can be used towards prizes such as free food, beverages, and retail items.
"We are thrilled Island H2O Live! is the recipient of a Leading Edge award," said Vantage's president Phil Edgell."The team there have worked tirelessly to make this new concept of a waterpark a reality and are very deserving of this recognition."