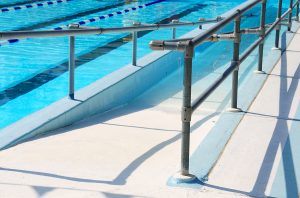 A Welland-based contractor, with a bid of $88,800, has been selected to install a ramp at Welland city's Maple Park Pool, proposed by the city's community services director as a necessary enhancement for improving accessibility and providing access to more users.
Serianni Construction Ltd. won the bid among two other contactors, who submitted pricier proposals for the installation job. Aqua Plans Aquatic Consultants Inc. worked with city staff on designing and preparing the tender. The work is expected to be done before the swimming season next year.
According to The Standard, the city's community services director Rob Axiak says this matter was discussed in a council meeting and the city is moving forward with the application for a federal grant for the costs of this enhancement.
"Our interest is to apply for the maximum allotment of funds of $100,000 to cover this project. Should we not be successful, funds have been budgeted to allow us to continue with this important project for the enhancement of the facility," said Axiak.
He added even though there are other options when it comes to meeting AODA (Accessibility for Ontarians with Disabilities Act) standards in pools, such as the use of chairlifts for those with disabilities, new pools must have ramps as they allow a larger audience to use the pool than would a chairlift.
In the council meeting, Axiak also told the members that the plans for the city's new Memorial Park Pool in the city's east end had a similar ramp. He also responded to a query by a councilor on whether contractors would need to dig out a spot for the ramp by saying the ramp would be built into the seven-lane pool: "We're digging outside of it. This will allow for seven lanes to be used. The one lane will have a ramp that is partially in it."