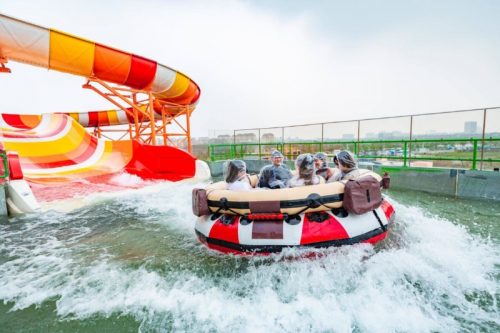 Shanghai Haichang Ocean Park in Tonglin, China opened a new rivers ride called Lava Drifting.
It is considered to be the longest spinning ride in the world with real rapid rivers.
Approximately 1 km (0.6 miles) long, the volcano-themed ride includes conveyor lifts, tunnels, multiple drops, oscillating movements, and the concluding steep drop from a giant manta.
"It's the first attraction ever to combine elements from spinning and traditional rapid rides with new water slide elements," said WhiteWater's president Nathan Jones.
The project saw a team of 40 people at WhiteWater across various functions ranging from product development, engineering, design, and slide paths collaborate with the client, the Legacy Entertainment team (experience designer Bob Baranick developed the preliminary layout for the ride, which remained largely unchanged in the final product), Cogito Automation worked on the control system, and VanStone provided the conveyor system.
From an engineering perspective, the ride requires a control system to manage the world's longest ride path with precision, safety, and accuracy. The control system integrates multi-zone management, advanced vehicle tracking, and safety elements.
"In many ways, this ride represents the best of industry collaborations to deliver on the client's ambitious visions," said WhiteWater's chief business development officer Paul Chutter. "Working to realize Legacy's concept and bringing additional skill sets to complement our engineering and manufacturing, we've created a ride which delivers in every way."