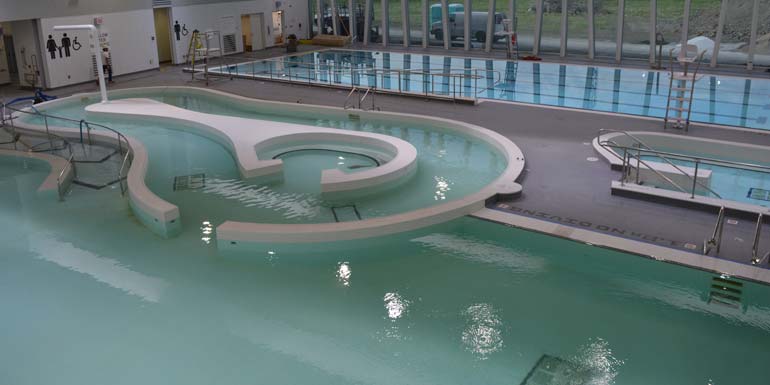 The Windsor Family Credit Union (WFCU) community pool and splash pad at the town of Lakeshore, Ont.'s Atlas Tube Centre held its grand opening last month.
The new aquatic section of the centre includes a 25 m lap pool, recreational pool, lazy river, therapeutic pool, and a splash pad. This marks the completion of the second phase of work on the facility, which opened its doors in September 2014.
On hand for the celebration were capital campaign chairs, Stephanie and Barry Zekelman, Eddie Francis, president of WFCU, and Lakeshore's Mayor Tom Bain, and council.
"Public infrastructure connects people, supports job creation, and boosts economic development. This is why the Government of Canada is providing funding for infrastructure projects that will help grow the middle class, create healthy communities for our children, and promote sustainable development and long-term prosperity for Canadian families," says the federal minister of infrastructure and communities Amarjeet Sohi.
The new aquatic centre will provide a variety of new recreational options for children, adults, seniors, and individuals with disabilities," says Bob Chiarelli, Ontario minister of infrastructure.
"The Ontario government is pleased to contribute to this important centre, and to support infrastructure that will enrich the lives of those in rural communities, create jobs and stimulate the local economy," Chiarelli adds. "The funding is part of the largest infrastructure investment in the province's history—about $160 billion over 12 years, which is supporting 110,000 jobs every year across the province, with projects such as hospitals, schools, roads, bridges and transit."
The WFCU community pool was made possible thanks to separate grants—each worth $17.3 million—from the federal and provincial governments. The Town of Lakeshore and private donors provided the remaining project costs. The estimated total project cost is $58.8 million.